Dracula, Porgy, and BASS
Join the Thailand Phil under the direction of Maestro Olivier Ochanine for fun program of spirited and jazzy music from all over the world. We feature our own Grzegorz Grzeszczyk in a concerto for bass clarinet. The program opens with a dynamic new work by renowned Thai composer Narong Prangcharoen, followed by the haunting music from the film Dracula by Polish composer Wojciech Kilar. The program finishes with two of the most beloved works by American composers, Copland's El Salón Mexico and Gershwin's Porgy and Bess.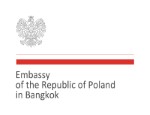 This concert is proudly supported by the Embassy of Poland.
Concerts:
Friday, 20 May 2022 / 7:00 pm / Prince Mahidol Hall
Saturday, 21 May 2022 / 4:00 pm / Prince Mahidol Hall
Conductor: Olivier Ochanine
Soloist: Grzegorz Grzeszczyk, bass clarinet
​​Program:
Narong PRANGCHAROEN: Chaotic Noises of Silence Rime (world premiere)
Wojciech KILAR: Mina and Dracula from Bram Stoker's Dracula
Michele MANGANI: Bass Concerto for Bass Clarinet and Orchestra
Aaron COPLAND: El Salón México
George GERSHWIN (arr. Bennett): Porgy and Bess: A Symphonic Picture
Covid-19 Safety Guidelines:
Prince Mahidol Hall, in cooperation Phutthamonthon District, Nakhorn Pathom, has implemented a robust system of Covid-19 safety guidelines. Please click here read more about measures we are taking to keep your visit to Prince Mahidol Hall safe and healthy.
Tickets: 1,500/1,000/800/600/400 Baht
Booking by telephone
Thai Ticket Major call center: 02-2623456
Prince Mahidol Hall call 02-8496565 Ext 6604,6609
Email: mshall@mahidol.ac.th
Salaya Link shuttle bus available at BTS Bang Wa Station: www.music.mahidol.ac.th/salayalink