Visitor Information
Audience Participation
Audience should be properly attired in respect for the performance and the place.
No T-shirts, shorts, flip-flops, etc. allowed. This is particularly important as the hall has underfloor air-conditioning and may feel cold. Bring something warm to wear just in case.
Children under the age of 5 are not allowed to the concert. But children can seated in the family box with the families.
(Family box seating) is an acoustically treated room with wide glass panels and excellent audience
equipment.
No food or beverages are allowed inside the hall.
Smoking is prohibited in the building.
Photography, video or any type of recording device is no permitted. (Press or interested parties must request such use in advance)
Please turn off all electronic devices before entering the hall.
Latecomers
Please remain seated during the performance, latecomers or those who have stepped out during the performance, are asked to wait until a convenient time, which is agreed in advance with the performers.To avoid disturbance to others, conversation and unnecessary noises during performance should be kept to a minimum.
Accessibility and Accessible Seating
There are 14 wheelchair spaces located in specific level access areas at BA entrance of the hall. Please reserve a wheelchair space at least 24 hours in advance.
When you arrive at the hall, please use either the drop off point (see map) or you may reserve a space in the underground car park (see map) when you request a wheelchair space 24 hours in advance.
Please let us know if you have additional requirements such as extra leg room or an aisle seat, at least 24 hours in advance.
We offer a wheelchair service (subject to availability) to help patrons to and from their level access seats; please note this does not include staff assistance and anyone borrowing a wheelchair must be able to use it independently or have the assistance of a career or companion. Please request a wheelchair when you make your booking.
Disabled Parking
There are a limited number of disabled parking spaces allocated on a first-come-first-served basis. Spaces are free of charge but a ticket must be booked through the Box Office with your concert tickets, 24 hours in advance
A wheelchair drop off point is located on BA entrance, next to the drop off point.
Family Box Seating
Music lovers with young children (under 5 years old) worry no more! We have 3 family box are available situated on the 2nd floor of the concert hall. You can enjoy the concert & performance from the family box which is an acoustically treated room with wide glass panels and excellent audio equipment.
Parking and Additional parking
Prince Mahidol Parking space can accommodate up to about 150 cars underground parking (Please see map)
Underground Parking Map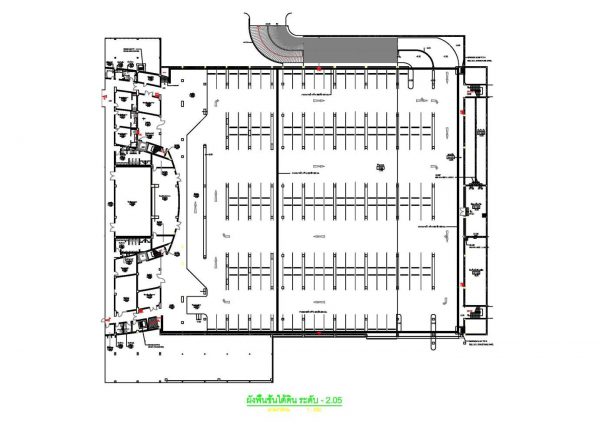 Additional parking is available in car park A (see map) which is a short walk to the concert hall.
Drop off Point and additional parking map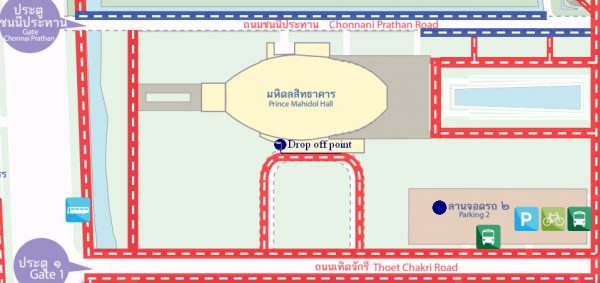 Patrons requesting wheelchair access on the special request, please refer to the accessibility wheelchair.
Tram (Internal Transportation)/Golf cart
Mahidol University has tram services within the University campus. You can take the tram no.3 which drop off at the front of Prince Mahidol Hall (Drop off point)
Food and Beverage
Music Square Situated along the canal between building C and D, Music Square offers fine dining experience in relaxing atmosphere, we serve Thai, international and Healthy cuisine. We provide modern, fresh catering for a variety of private and corporate clients.
What to expect when you attend a classical concert
What should I wear?
What you wear depends on the type of concert you are going to. Since we're talking about classical concerts, it's best to wear something that's in between; not too casual and yet not too formal. For example, wear something that you would to a job interview or a business meeting. It's also advisable not to wear hats as this will obstruct the view of the person behind you.
Short trouser or sandals we are not allowed to any concert.
When should I arrive?
Most people arrive about half an hour before the performance starts. Most evening classical concerts begin at 7.30pm but please check with the venue as they can vary.
Will I be let in if I'm late?
Please remain seated during the performance, latecomers of those who have stepped out during the performance, are asked to remain outside until intermission. To avoid disturbance to others, conversation and unnecessary noises during performance should be kept to minimum.
Are there any rules I need to be aware of?
A few, just to make life pleasant for the musicians and other members of the audience.
You must turn your mobile phone completely off before you enter the hall
You must not photograph, video or record any part of the performance
Smoking is not allowed anywhere in the building
When should I clap? (Applause)
At the beginning of the concert, the concertmaster will come onstage. The audience claps as a welcome, and as a sign of appreciation to all the musicians. Once all the musicians go on stage, the concertmaster able to applause. After the orchestra tunes, the conductor and possibly a soloist will come onstage. Everyone claps to welcome them, too. This is also a good moment to make sure your program is open, so you can see the names of the pieces t at will be played and their order. When everything settles down, the music begins. Just listen and enjoy! The audience doesn't really applaud again until the end of the piece. In most classical concerts, unlike jazz or pop, the audience never applauds during the music. They wait until the end of each piece. But this can be a little tricky, because many pieces seem to end several times – in other words, they have several parts, or movements. These are listed in your program.
In general, musicians and your fellow listeners prefer not to hear applause during the pauses between these movements, so they can concentrate on the progress from one movement to the next. Symphonies and concertos have a momentum that builds from the beginning to the end, through all their movements, and applause can "break the mood," especially when a movement ends quietly. Not sure when the piece is over? Watch the conductor, who will lower the baton at the conclusion of a work. When in doubt, it's always safe to wait and follow what the rest of the audience does.
What if I need to cough during the music?
There's a funny thing about coughing – the less worried you are about it, the less likely you are to feel the urge. So chances are you'll feel less need to cough if you're prepared.
If you have a cold, take some cough medicine in advance and bring wax paper-wrapped – or unwrapped – lozenges with you. Have a few out and ready when the music begins.
Allow yourself to become involved in listening to the music and in watching the performers. The more you are absorbed in what's going on, the less likely you are to cough.
If you absolutely can't restrain yourself, try to wait for the end of a movement. Or "bury" your cough in a loud passage of music. If this is impossible, and you feel a coughing fit coming on, it's perfectly acceptable to quietly exit the concert hall. Don't be embarrassed – your fellow listeners will probably appreciate your concern for their listening experience.
Will there be a break?
Yes, there is usually an intermission about halfway through the concert, which will last around twenty minutes. You can order a drink for the intermission at any of the square cafe before the concert starts so you don't have to queue during the intermission.
Can I take photos or videos?
While we understand that you may want to memorialize your visit to the Hall, photos can only be taken on handheld devices when a performance is not in progress. Sound or video recording of any performance without the written permission of management is strictly prohibited. Unauthorized photographs, video, or other recordings may be deleted at management's discretion.
What should I do with my cell phone during the concert?
Turn it off! The same goes for pagers and alarm watches. It's a good idea to double-check in the few minutes before the concert begins, and again as intermission draws to a close. Better still, leave them at home if you can. Doctors and emergency workers who are "on call" can give their pagers to an usher, who will summon them quietly if they are paged.