Prince Mahidol Hall Seating Plan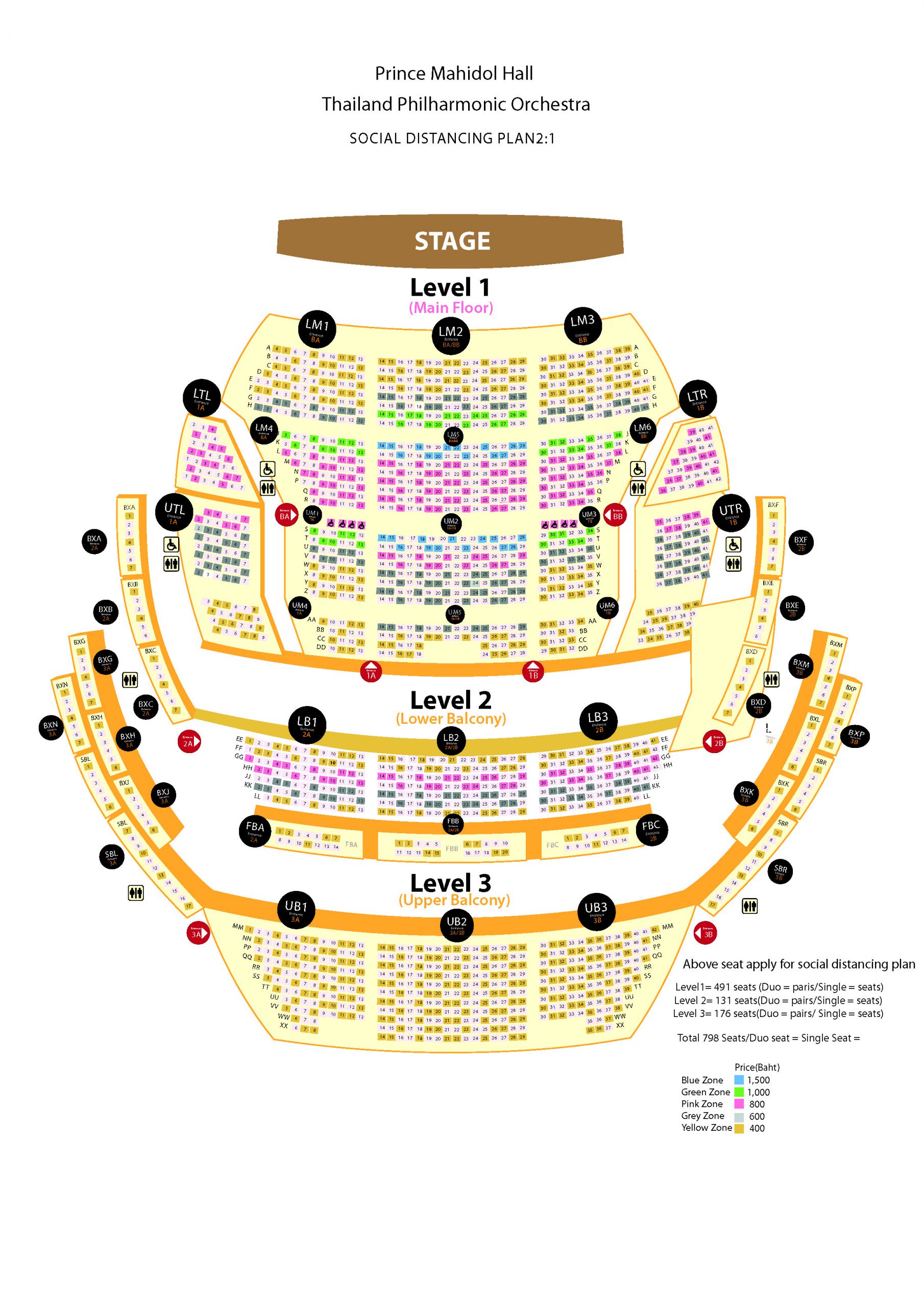 TICKET PRICE
TPO Concert
฿1500 (Blue Zone)
฿1000 (Green Zone)
฿800 (Pink Zone)
฿600 (Grey Zone)
฿400 (Yellow Zone)
TICKET INFORMATION
TICKET BOOKING AND PAYMENT
Requests for ticket purchase are accepted at any of the following locations.
• Online at www.thaiticketmajor.com
• ThaiTicket Major counters (see www.thaiticketmajor.com for locations)
• ThaiTicket Major Theater Outlet
• Thailand Post (only Bangkok and surrounding areas)
• ThaiTicket Major Counter at Tesco Lotus one stop service (see www.thaiticketmajor.com for locations)
• ThaiTicket Major Counter at Big C (see www.thaiticketmajor.com for locations)
• Prince Mahidol Hall Box Office counter in the foyer on concert days only
• Prince Mahidol Hall Office in the PMH Parking Building, Monday to Friday 09:00 to 17:00
• Prince Mahidol Hall telephone: 662-849-6565 ext. 6604, 6609 or, on the day of performance, ext. 6626
• Email: mshall@mahidol.ac.th
TICKET TERMS AND CONDITIONS
• Purchased tickets cannot be exchanged or refunded under any circumstance.
• Seating cannot be changed and lost tickets cannot be reissued.
• Children under the age of five are not allowed to the concert unless the child is seated in the family box.
• Wheelchair-accessible seating area is available with 24-hour advance booking.
• There will be an administrative fee for all exchanges. Tickets may only be exchanged for the same show
on different dates. No exchanges will be allowed for tickets between different shows.
• For ticket upgrades to higher price ranges and/or to change seats, customers should present the original
ticket 48 hours before the show that was originally booked. Otherwise, no upgrade will be permissible.
There will be an administrative fee of 50 baht per ticket for all upgrades. Requests for exchanges to tickets
of lesser value will not be allowed.
• In the case of show cancellations, customers can receive refunds from Thaiticketmajor kiosks upon
presentation of their original ticket stub ONLY. No refund can be given without the original ticket stubs.
FAMILY BOX SEATING
Audience members with young children are welcome to attend Thailand Philharmonic Orchestra concerts. We have several family boxes which are
enclosed, acoustically isolated rooms with wide glass panels and excellent audio systems. They are situated on the second floor of the concert hall. Your whole family can enjoy the concert with no worries about disturbing other patrons. To be assured of a place please book 24 hours in advance.
CHILDREN AND STUDENT RATE
Children and students are eligible for a special 50% discount on tickets purchased at the Prince Mahidol Hall, Box office. You will asked to show a current student ID.
WAITING LIST
In the event that all tickets for a concert are sold you may be placed on a waiting list by providing your name and mobile phone number. You will be informed by SMS if tickets for this concert become available.
ACCESSIBILITY FOR PEOPLE WITH DISABILITIES
On the main floor there are fourteen wheelchair spaces located in the hall with level access (no stairs). Please reserve a wheel chair space at least 24 hours in advance by calling the Prince Mahidol Hall Box office at 02-849-6565 ext. 6604, 6609. If you have additional requirements such as extra leg room or an aisle seat please let us know at the time of your booking.
For patrons using wheelchairs we offer complimentary tickets for the person accompanying the wheelchair user. To be assured of a complimentary ticket please book 24 hours in advance. When you arrive at the hall, please use either the drop-off entrance on the east side of the building, or you may reserve a space in the underground car park. Seating areas for patrons in wheelchairs and their companions are available on Level 1 of Row S seat and at the back of row DD, UM5 zone. Prince Mahidol Hall service representatives will assist patrons with mobility impairments by escorted wheelchair transport to their seats. Reservations are necessary. Please call 662-849-6004, ext. 6609 at least 24 hours in advance.
LATECOMERS
Latecomers, or those who have stepped out during the performance, are asked to wait until a convenient time to enter the hall, which is agreed in advance with the performers. To avoid disturbance to others conversation and unnecessary noises during performance should be kept to a minimum.
AUDIENCE GUIDELINES
• Please remain seated during the performance.
• Audience members should be properly attired in respect for the performance and the place.
• No T-shirts, shorts, flip-flops, etc. are allowed. This is particularly important as the hall has under-floor air conditioning and may feel cold. Bring something warm to wear just in case.
• Children under the age of five are not allowed in the concert. However, children under five be can seated in the family box.
• No food or beverages are allowed inside the hall.
• Smoking is prohibited in the building.
• Photography, video or any type of recording device is no permitted during the performance. (Press or interested parties must request such use in advance)
• Before, in between, and after the performance we invite you take photos or videos and post to social media using these hashtags: #thailandphil #princemahidolhall
• Please turn off all electronic devices during the performance.