[POSTPONED] Bruckner's Ninth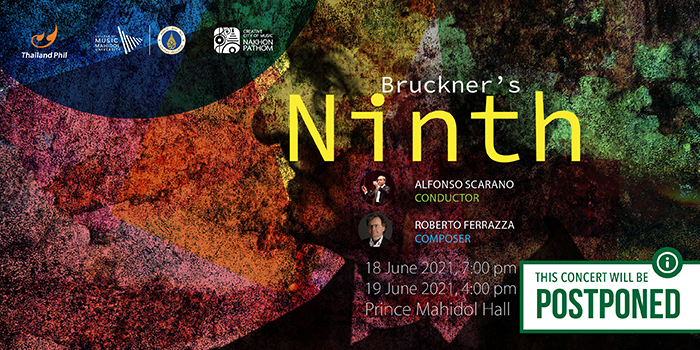 วง Thailand Phil ขอประกาศเลื่อนการแสดงคอนเสิร์ตของเราในเดือนพฤษภาคมนี้ออกไปก่อน เนื่องจากสถานการณ์การระบาดครั้งใหม่ของไวรัสโควิด-19 ในประเทศไทย โปรดติดตามเนื้อหาออนไลน์ใหม่ ๆของเรา และประกาศเกี่ยวกับการแสดงคอนเสิร์ตของเราในอนาคต ได้ทาง Facebook และ Instagram ของเรา
—-
Thailand Phil announces the postponement of our concerts in May due to the new outbreak of Covid in Thailand. Stay tuned to our Facebook and Instagram for future announcements and new online content.
---
Chief Conductor Alfonso Scarano leads the Thailand Phil in a groundbreaking performance of Bruckner's Ninth Symphony, a work that he left unfinished. This performance will be the premier of the newly-created finale by noted Bruckner scholar Roberto Ferrazza.
This program is proudly supported by the Embassy of Italy.
ซิมโฟนีของบรุคเนอร์เป็นเหมือนอนุสาวรีย์ยิ่งใหญ่ของโลกซิมโฟนี สำหรับหมายเลขเก้านี้ คืองานชิ้นสุดท้ายที่ตอนจบไม่เสร็จสมบูรณ์ มีนักวิชาการดนตรีหลายคนพยายามที่จะค้นคว้าและประกอบสร้างตอนจบออกมาให้สมบูรณ์ที่สุด สำหรับการแสดงในครั้งนี้เป็นการแสดงปฐมทัศน์ของตอนจบที่ประกอบสร้างโดย โรแบร์โต แฟร์รัซซา นักวิชาการด้านบรุคเนอร์
Concerts:
Conductor: Alfonso Scarano
Composer: Roberto Ferrazza
Program: