Thanapoom Sriwiset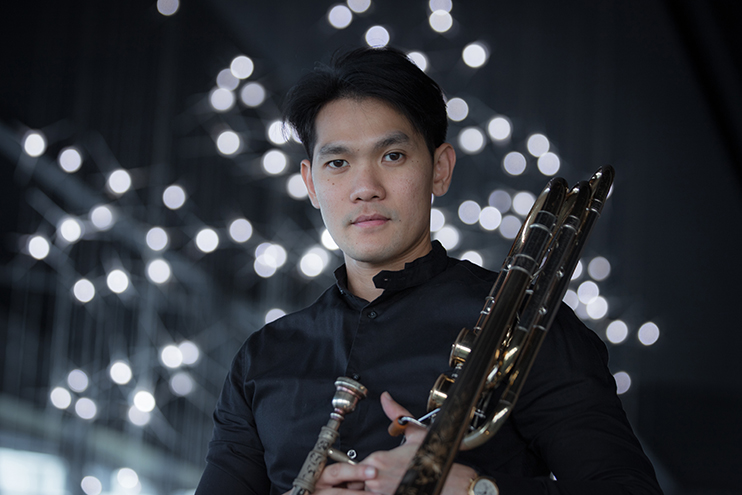 Born in: –
Member Since: 2010
Thanapoom Sriwiset has been a member of the Thailand Philharmonic Orchestra since2010. He is currently teaching as a part-time trombone instructor at the College of Music, Mahidol University and he is also a trombone instructor of the Thai Youth Orchestra.
Thanapoom graduated his bachelor's degree and master's degree of music from the College of Music, Mahidol University under the instruction of Dr. Sean Scott Read and Mr. Philip Brink. While he was studying, he got the Young Artists Entrance Scholarship in 2008, Academic Merit Scholarship in 2009, and won as a first runner-up of the Thailand Trombone Competition in 2011. He was also a member of Mahidol Wind Symphony, Mahidol Symphony Orchestra, Mahidol Jazz Orchestra, and joined the Southeast Asian Youth Orchestra and Wind Ensemble (SAYOWE) in 2005 to 2010.
Thanapoom got a scholarship from Austrian Agency for International Cooperation in Education and Research to study at the University of Music and Performing Arts in Graz, Austria with Mr. Thomas Eibinger. He also had an opportunity to perform with Grazer Philharmonische Orchester at the Opernhaus, Graz.
Thanapoom Sriwiset has been invited to perform as a soloist with the Ubon Ratchathani Youth Orchestra and Thai Youth Orchestra. He was also performed recitals, concerts, and various events such as Tuba Mania International Festival and Music Element Low Brass Festival and Competition.