Surasi Chanoksakul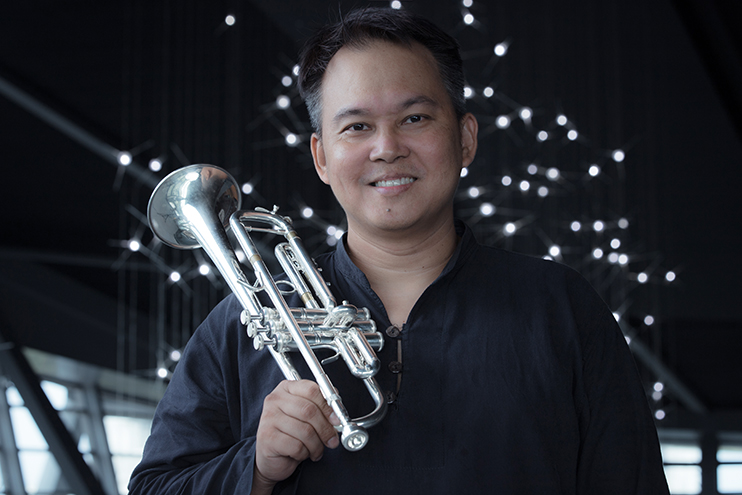 Born in: –
Member Since: 2007
Surasi Chanoksakul formal Principal Trumpet of the Thailand Philharmonic Orchestra, since he was appointed in 2007, he has served as Co-Principal Trumpet of the Thailand Philharmonic Orchestra, since November 2016 until present. Prior to his appointment he performed with the Bangkok Symphony and the Chao Phraya Symphony Orchestra.
One of the most in-demand trumpet artists in Thailand today, Chanoksakul has given performances and master classes throughout the region. He has taught thousands of music students in clinics, workshops and master classes. He has extensive experience in both concert and marching band, and regularly adjudicates festivals and competitions. He has been a faculty member of the Department of Music, Kasetsart University since 1998.
Chanoksakul is an active chamber musician, and performs regularly with the Bangkok Brassberry Quintet, who gives numerous performances both in Thailand and internationally. He also performs with the Thailand Philharmonic Brass Quintet and several other groups.
Chanoksakul enjoys incredible crossover success, and performs and records in jazz and commercial styles with artists at concert events such as Bird Thongchai, Marsha Wattanapanich , Am Saowalak, Nong Plub, Nong Ploy, UHT,Da Endophine, Revolution, Koh Mr.Saxman, Soul After Six, T-Bone, Byrd-Heart, H.R.U., JRP Big Band, Heineken Jazz Festival, Bangkok Jazz Festival, Infinity Band, Mr.Team Band, 10th years Bakery Concert, Groove Rider, Woman in Love Concert, Benmore, Heineken, Love IS Concert,Rhythm&Boyd Eleventh, Chatree Band, Brasswave Band, Bodyslam,Blackhead,E.T.C., Be Peerapat, The Impossibles and many more. He is the first call trumpet for most commercial recordings companies in Thailand, including Grammy Entertainment, RS Promotion, Bakery Music, Love Is Etc.
Chanoksakul is currently pursuing his Doctor of Music Degree in Trumpet Performance and Pedagogy at the College of Music, Mahidol University, where he studies with Asst. Prof. Dr. Joseph Bowman. He has a Master Degree from Mahidol University and a Bachelor Degree from Kasetsart Univerity. His previous trumpet teachers include Vanich Potavanich and Manu Hothai.