Rutawat Sintutepparat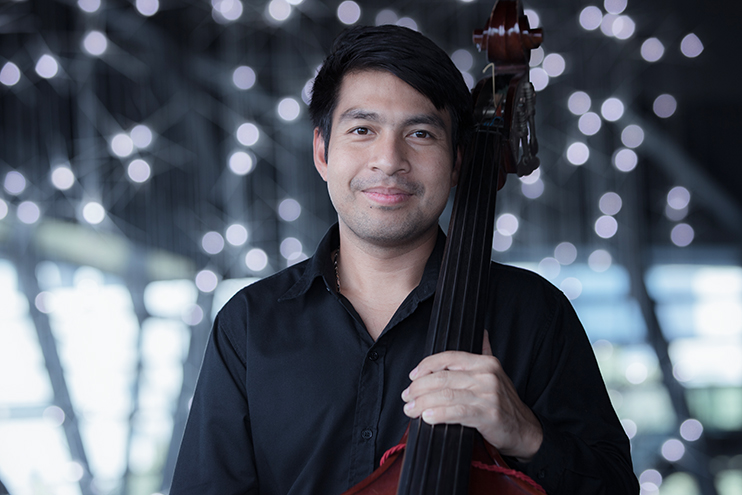 Born in: –
Member Since: –
Education :
2007-2011 : Chulalongkorn University, Bachelor of Fine and Applied Arts (Thailand)
2015-2017: Master Interpretation Concert, Haute Ecole de Musique de Lausanne, Switzerland. Classe de Michel Veillon. Studied with Michel Veillon, Pongsathorn Suraparb and Col.Choochart Pitaksakorn.
Working Experience:
2006-2007 Principal and Assistant Principal of the Thai Youth Orchestra,
Project Unity United University Orchestra of Thailand.
2008-2009 Siam Sinfonietta (Principal), South Asian Youth Music Camp (Thailand),
Asian Youth Orchestra Rehearsal Camp (Hong kong), Chulalongkorn String Orchestra (Principal)
2010-2011 Soloist of the Silpagum Classical Night Concert of the Chulalongkorn University Music Department, Principal of the Sunrise String Orchestra,
"Mae nakk" Opera Concert in London as the Assistant Principal of the Bangkok Opera Orchestra, Chulalongkorn Symphony Orchestra (Assistant Principal)
2012-2013 Bangkok Symphony Orchestra, Siam Philharmonic Orchestra (Assistant Principal), Bangkok Opera, The Viola Lovers, Music teacher at Sarasas Ektra School, Penang Philharmonic Orchestra (Malaysia), The Phantom of the Opera tour in Bangkok Thailand with Original London Production by Cameron Mackintosh.
2014-2015 7th  International Youth Music Festival (Bratislava)
     – Mahajanaka The Phenomenal Live Show for the King of Thailand
     – Asian Youth Orchestra,
– Opera de Lausanne "Route Lyrique 2016 (La Belle de Cadix)"
–Orchestra Symphonique et Universitaire de Lausanne.
-Opportunity to play with Orchestre de chambre de Lausanne.
-Davos Music Festival in Davos, Switzerland.
-Philharmonie de animato stiftung.
-Montreux Jazz Festival 2017
-Master of Arts HES-SO of Interpretation musical with orientation in Concert, HEMU, Switzerland.
-Thailand Philharmonic Orchestra