POSTPONED: THAILAND INTERNATIONAL PIANO COMPETITION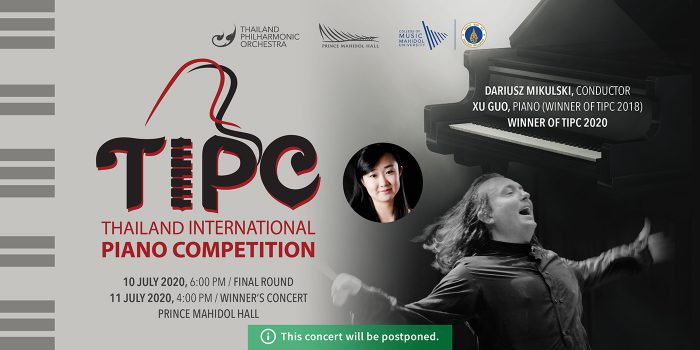 The Thailand International Piano Competition is back this year with contestants from all over the world. Come on Friday evening to hear the five
finalists compete for the trophy. Come again on Saturday to see Xu Guo, the first-prize winner of the 2018 competition, perform the most popular of Prokoviev's piano concertos before the newly-crowned winner of TIPC will take the stage once more. This promises to be a thrilling showcase of young virtuosic talent.
งานประกวดเฟ้นหานักเปียโนฝีมือดี TIPC กลับมาอีกครั้ง การแสดงรอบวันศุกร์คือการประกวดรอบชิงชนะเลิศโดย 5 ผู้เข้ารอบสุดท้าย ผู้ชนะเลิศจะได้มาร่วมเวทีกับ Thailand Phil ในวันเสาร์ ซึ่งก็จะมีแชมป์นักเปียโนสาวจากปีที่แล้ว Xu Guo จะมาบรรเลงคอนแชร์โตหมายเลข 3 อันโด่งดังของเซอร์เก โปรโกเฟียฟ
Concerts:
10 July 2020 / 6.00 p.m. / PMH (Final Round)
11 July 2020 / 4.00 p.m. / PMH (Winner's Concert)
Conductor: Dariusz Mikulski
Program:
Sergei PROKOFIEV Piano Concerto No. 3 in C major, Op. 26
other repertoire to be announced
Tickets Price: 1500, 1000, 800, 600, 400 Baht
50% discount for Children and students below the age of 25 (or currently studying in an undergraduate program)
Ticket Reservation
Thaiticket Major – www.thaiticketmajor.com / Call Center 02-262-3456
PMH Box Office on TPO Concert Day (Friday since 5.00 p.m. – 9.00 p.m. / Saturday since 2.00 p.m.- 6.00 p.m.)
E-mail: mshall@mahidol.ac.th
Salaya Link shuttle bus available at BTS Bang Wa Station: www.music.mahidol.ac.th/salayalink