[POSTPONED] Symphonic Dances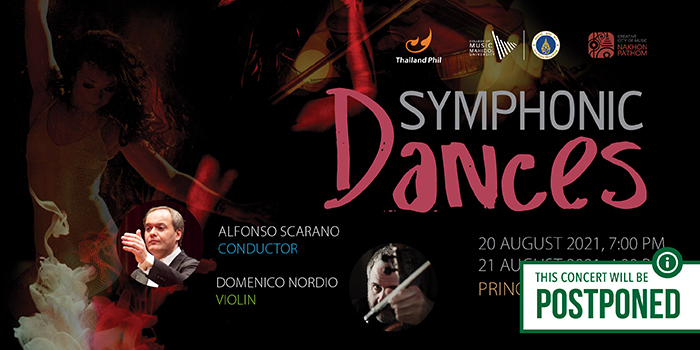 วง Thailand Phil ขอประกาศเลื่อนการแสดงคอนเสิร์ตของเราในเดือนสิงหาคมนี้ออกไปก่อน ตามมาตรการควบคุมความเสี่ยงและป้องกันการแพร่ระบาดของไวรัสโควิด-19 โปรดติดตามเนื้อหาออนไลน์ใหม่ ๆของเรา และประกาศเกี่ยวกับการแสดงคอนเสิร์ตของเราในอนาคต ได้ทาง Facebook และ Instagram ของเรา
•
Thailand Phil announces the postponement of our concerts in August in accordance with continued regulations due to COVID-19. Stay tuned to our Facebook and Instagram for future announcements and new online content.
—————————————————
The Thailand Phil finishes the season with a program of Russian masterworks. Domenico Nordio dazzles with his performance of the much-loved Tchaikovsky Violin Concerto and the Thailand Phil brings the season to a thrilling conclusion with Rachmaninov's Symphonic Dances. Also featured are works from two of Thailand's most prominent composers, Narong Prangcharoen and Morakot Cherdchoo-ngarm. 
ในการแสดงปิดฤดูกาลของเราได้รวบรวมเพลงที่เป็นที่รู้จักกันดีของนักฟังเพลงมาให้ท่านได้ร่วมเป็นสักขีพยานความยิ่งใหญ่ของดนตรีคลาสสิก เพลง Phenomenon คืองานสร้างชื่อของ ณรงค์ ปรางค์เจริญ ที่ทำให้เขามีชื่อเสียงในวงการ ไวโอลินคอนแชร์โต ของ ไชคอฟสกี คือหนึ่งในงานเดี่ยวไวโอลินที่เป็นที่รักของผู้คนทุกยุคสมัย เพลงแม่ธรณีบีบมวยผม คือผลงานของ มรกต เชิดชูงาม ที่จำสะท้อนตำนานและศิลปะออกมาเป็นเสียงเพลง
Concerts:
Saturday, 21 August 2021 / 4:00 pm / Prince Mahidol Hall
Conductor: Alfonso Scarano
Soloist: Domenico Nordio, violin
Program: