RADIANT FINALE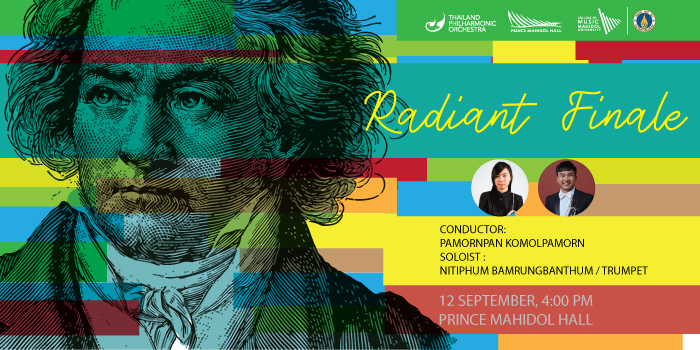 After a long pause the Thailand Phil returns to Prince Mahidol Hall just in time to finish its' fifteenth season in exuberant form. The program begins gently with Elgar's Serenade for Strings. The Serenade was one of Elgar's favorite works; noteworthy as it is also one of his earliest. Elgar began his career as a violist and his knowledge of string performance served him well as he wrote the Serenade. It has become a favorite in the repertoire.
The program gains momentum with a virtuosic performance of Haydn's Trumpet Concerto by our own principal trumpet Nitiphum Bamrungbanthum. Nitiphum has achieved international success as a trumpet soloist and orchestral performer. This will be his second solo appearance with the Thailand Phil, this time performing Haydn's classic Trumpet Concerto.
The afternoon finishes triumphantly with Beethoven's Seventh Symphony. Beethoven called this work "one of my happiest products". He premiered the work 1813 in war-torn Vienna as encouragement to wounded soldiers, and also in celebration of an impending victory over Napolean. Thailand Phil offers it here in similar spirit: as encouragement to those who have battled COVID, and a celebration of a bright future.
Join the Thailand Phil's celebration of past achievements and a happy future on 12 September at 4:00 pm in Prince Mahidol Hall.
Concerts: 12 September 2020 / 4.00 p.m. / PMH
Conductor: Pamornpan Komolpamorn
Soloist: Nitiphum Bamrungbanthum, trumpet
Program:
Edward ELGAR: Serenade for Strings in E minor, Op. 20
Joseph HAYDN: Trumpet Concerto in E-flat major, Hob. VIIe:1
Ludwig van BEETHOVEN: Symphony No. 7 in A major, Op. 92
Tickets Price: 1500, 1000, 800, 600, 400 Baht
50% discount for Children and students below the age of 25 (or currently studying in an undergraduate program)
Social Distancing Venue Seating Policy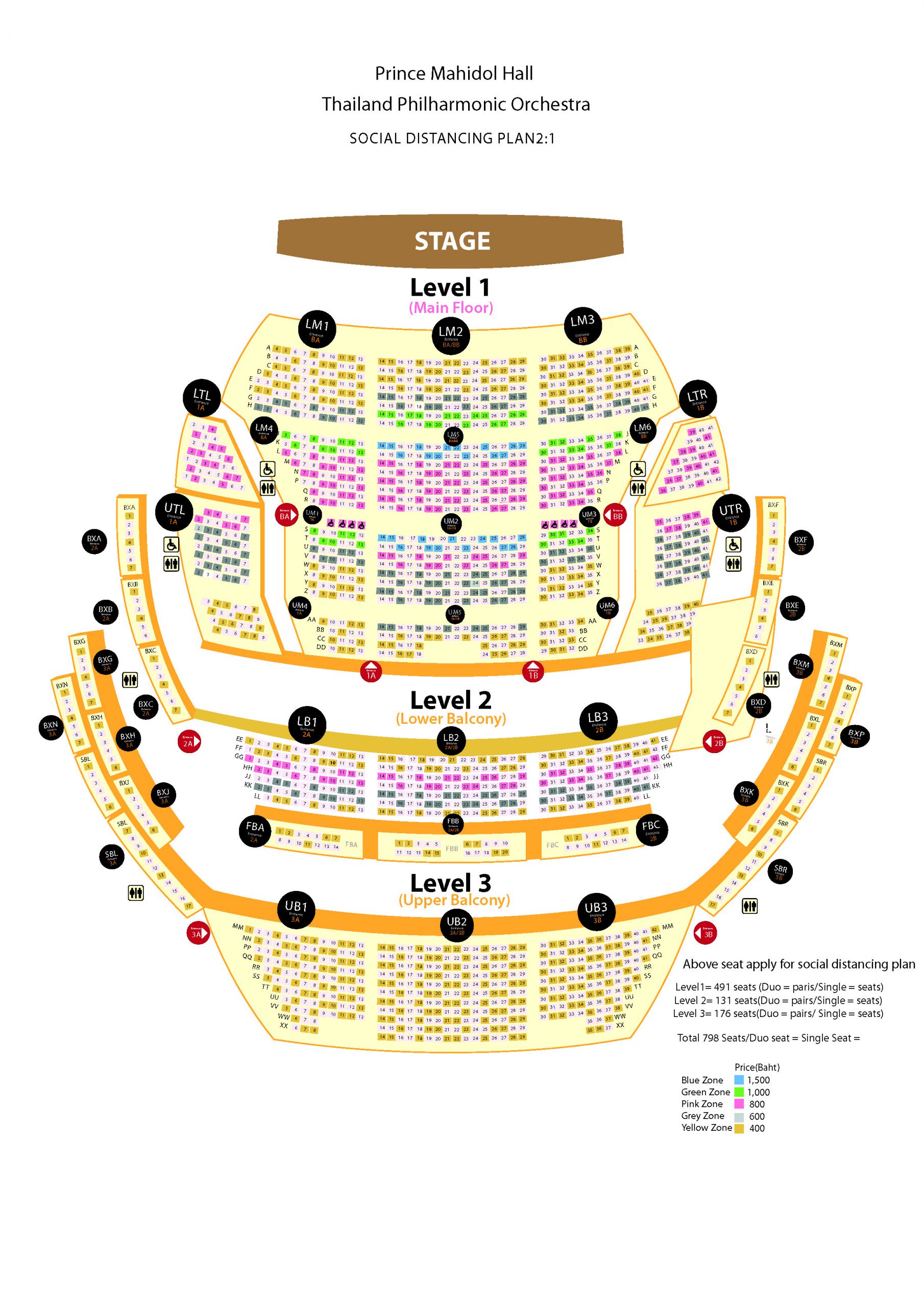 Our venues have standard seating arrangements following MoPH and Provincial guidelines of 4 sm per person.

MACM maximum per concert is 111 seats
PMH
Level 1 is 491 seats
Level 2 is 131 seats
Level 3 is 176 seats
The standard configuration is in single or "duo" seats in PMH
The standard configuration is single in MACM.
Bookings of 2, 3-4 in MACM, more than 2 in PMH, must be made by telephone or email at least 48 hours before the date of the concert.
Students who are entitled to complimentary seating will only be allowed to use single seats.

Due to the limited number of people allowed in the lobby areas at any one time, MS students are requested to book their complimentary seat no later than 15 minutes before the concert.
If later than 15 minutes we cannot guarantee a seat.
Student may need to wait outside the lobby to queue for their seats.

Pricing follows the same announcements for each concert

200 Baht adult and 100 Baht Student (Non MS student with student ID card) in MACM
PMH is announced for each event or a TPO series.

The online audience can attend to the live concert via (Facebook, YouTube Live, etc.)
For tickets and reservation please call:
Tel 0 2849 6565 ext. 6609 or 6604 (Monday-Friday at 9.00 a.m. – 5 p.m.)
Email: mshall@mahidol.ac.th
Salaya Link shuttle bus available at BTS Bang Wa Station: www.music.mahidol.ac.th/salayalink