[POSTPONED] Othello and Juliet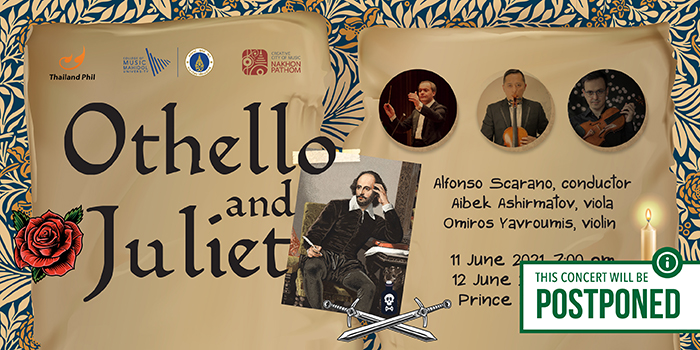 วง Thailand Phil ขอประกาศเลื่อนการแสดงคอนเสิร์ตของเราในเดือนมิถุนายนนี้ออกไปก่อน ตามมาตรการควบคุมความเสี่ยงและป้องกันการแพร่ระบาดของไวรัสโควิด-19 โปรดติดตามเนื้อหาออนไลน์ใหม่ ๆของเรา และประกาศเกี่ยวกับการแสดงคอนเสิร์ตของเราในอนาคต ได้ทาง Facebook และ Instagram ของเรา
—–
Thailand Phil announces the postponement of our concerts in June in accordance with continued regulations due to COVID-19. Stay tuned to our Facebook and Instagram for future announcements and new online content.
---
Shakespeare's influence as a playwright and poet has permeated every art form from dance, to cinema, to music. On this program the Thailand Phil features music inspired by two of Shakespeare's works: Dvořák's Othello Overture and Prokoviev's Romeo and Juliet Suite. Filling out the program are two romantic interludes featuring our own concertmaster, Omiros Yavroumis, and principal violist, Aibek Ashirmatov, as soloists.
พลังแห่งเชคสเปียร์ที่กลายมาเป็นแรงบันดาลใจในการสร้างสรรค์บทเพลง พบกับงานออร์เคสตราขนาดสั้นของดโวชาค Othello Overture และดนตรีประกอบบัลเลต์เรื่อง Romeo and Juliet ของโพรโกเฟียฟ เสริมด้วยเพลง Romance สำหรับเดี่ยวเครื่องสายที่หัวหน้าวง Omiros Yavroumis จะมาบรรเลงเดี่ยวไวโอลินงานของเบโทเฟน และ Aibek Ashirmatov หัวหน้ากลุ่มวิโอลา บรรเลงงานของบรุค
Concerts:
Conductor: Alfonso Scarano
Soloist:
Program: