Legends and Fantasies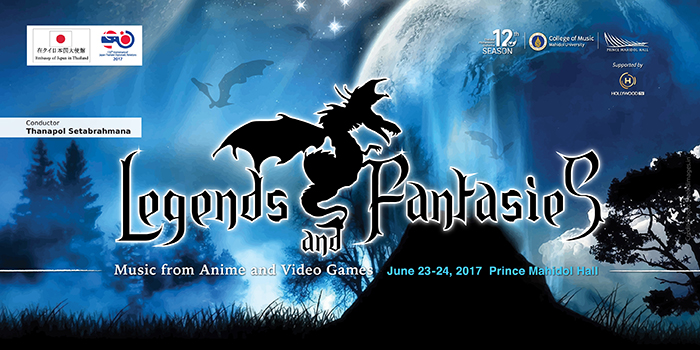 The TPO performs music from Japanese animations. The beautiful tracks behind the moving images, both classics and contemporary, will be realised here on the Prince Mahidol stage. Come join us to hear music accompanying adventures, quests, and wars, excellently written for orchestra.
Concerts:
23 June 2017 / 7.00 p.m. / PMH  (Pre-Concert Talk 6.15 p.m.)
24 June 2017 / 4.00 p.m. / PMH  (Pre-Concert Talk 3.15 p.m.)
Conductor: Thanapol Setabrahmana
Programs:
Kohei Tanaka: We Are! (Theme Song from "One Piece")

Yasuharu Takanashi: Music from "Fairy Tail" and "Naruto"

Yuki Kajiura: "Sword Art Online" Medley

Yoshihisa Hirano: Symphonic Suite "Hunter x Hunter"

Joe Hisaishi: Kiki's Delivery Service

Yasunori Mitsuda: Scar of Time (from "Chrono Cross")

Nobuo Uematsu: One-Winged Angel (from "Final Fantasy VII")

and more!
Performing Rights administered by MPC, Schott Music Japan, Warner/Chappell Music (Thailand)
Tickets Price: 500, 300 Baht (100 Baht for students up to bachelor's degree)
Reservation PMH Box Office
E-mail: mshall@mahidol.ac.th
Thaiticket Major – www.thaiticketmajor.com / Call Center 02-262-3456
PMH Box Office on TPO Concert Day (Friday since 5.00 p.m. – 9.00 p.m. / Saturday since 2.00 p.m.- 6.00 p.m.)
Salaya Link shuttle bus available at BTS Bang Wa Station: http://www.music.mahidol.ac.th/salayalink