Latin American Music Night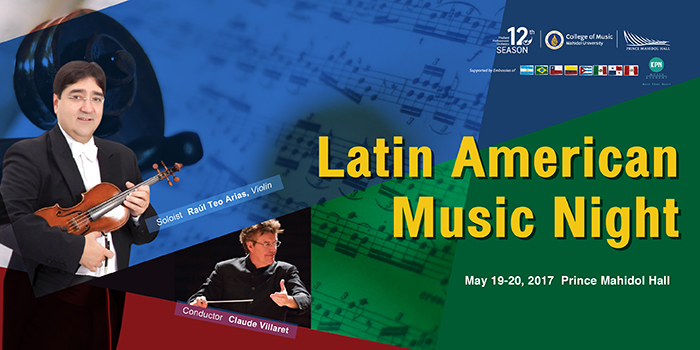 One of TPO's most popular programs returns as conductor Claude Villaret takes us back to Latin America for works by composers from Mexico, Cuba, Argentina, Brazil and more! Mexican violin soloist Raúl Teo Arias joins TPO for a performance of Manuel Ponce's Concerto for Violin and Orchestra. This is a can't miss event!

Concerts:
19 May 2017 / 7.00 p.m. / PMH (Pre-Concert Talk 6.15 p.m.)
20 May 2017 / 4.00 p.m. / PMH (Pre-Concert Talk 3.15 p.m.)
Conductor: Claude Villaret
Soloist: Raúl Teo Arias, Violin
Programs:
Thai Traditional Music
Arturo Pantaleon:
La Llegada: Fugato-Allegro-Fugato from
the suite El Rittual de Tezcatlipoca Op. 20
Manuel M. Ponce:
Concerto for Violin & Orchestra
Astor Piazzolla: Selected Works
Antônio Carlos Jobim: Selected Works
And many more!
Tickets Price: 500, 300 Baht (100 Baht for students up to bachelor's degree)
Reservation PMH Box Office
E-mail: mshall@mahidol.ac.th
Thaiticket Major – www.thaiticketmajor.com / Call Center 02-262-3456
PMH Box Office on TPO Concert Day (Friday since 5.00 p.m. – 9.00 p.m. / Saturday since 2.00 p.m.- 6.00 p.m.)
Salaya Link shuttle bus available at BTS Bang Wa Station: http://www.music.mahidol.ac.th/salayalink