Echoes of The Warcry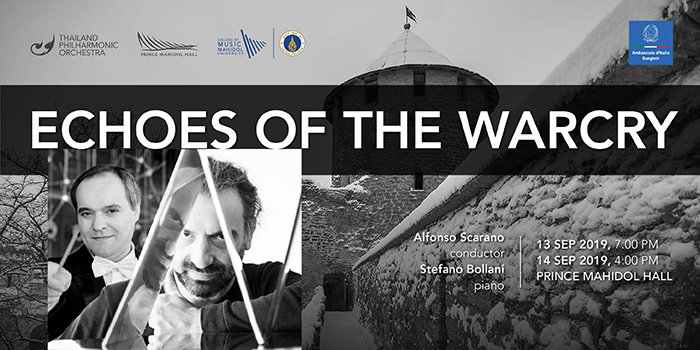 Poulenc's elegant, Baroque-inspired Champêtre Concerto is one of the hidden jewels in the piano repertoire. Originally for harpsichord, we hear it
by the equally-effective version for piano in the charismatic and multifaceted Stefano Bollani. A sharp turn East and we hear the tragic drama of life, death, and triumph in Shostakovich's intense masterpiece, the "Leningrad" Symphony.
Concerts:
13 September 2019 / 7.00 p.m. / PMH (Pre-Concert Talk 6.15 p.m.)
14 September 2019 / 4.00 p.m. / PMH (Pre-Concert Talk 3.15 p.m.)
Conductor: Alfonso Scarano
Soloist: Stefano Bollani, piano
Programs:
Thai Traditional Music Farang Yi Hem
Francis POULENC Concert Champêtre
Dmitri SHOSTAKOVICH Symphony No. 7 in C major, Op. 60, "Leningrad"
Tickets Price: 1500, 1000, 800, 600, 400 Baht
50% discount for Children and students below the age of 25 (or currently studying in an undergraduate program)
Reservation PMH Box Office
E-mail: mshall@mahidol.ac.th
Thaiticket Major – www.thaiticketmajor.com / Call Center 02-262-3456
PMH Box Office on TPO Concert Day (Friday since 5.00 p.m. – 9.00 p.m. / Saturday since 2.00 p.m.- 6.00 p.m.)
Salaya Link shuttle bus available at BTS Bang Wa Station: www.music.mahidol.ac.th/salayalink