[CANCELLED] Bolero!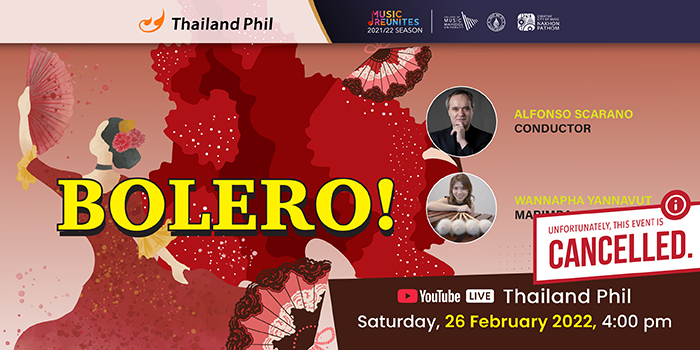 วง Thailand Phil รู้สึกเสียใจที่ต้องประกาศให้ทุกท่านทราบว่า เรามีความจำเป็นต้องยกเลิกการแสดงและการไลฟ์สดคอนเสิร์ตในวันเสาร์นี้ เพื่อให้เป็นไปตามประกาศมาตรการควบคุมการแพร่ระบาดของโรคติดเชื้อไวรัสโคโรนา 2019 (COVID-19) (สายพันธุ์โอมิครอน) ในพื้นที่จังหวัดนครปฐม โปรดคอยติดตามคอนเสิร์ตของเราได้ทางเว็บไซต์และ Facebook ของเรา เราจะกลับมา เร็วๆนี้! 
Thailand Phil regrets to announce that this Saturday's live-streamed concert is cancelled due to new restrictions announced by Nakhon Pathom province. Please stay tuned to our website and Facebook page for information about upcoming concerts. We will be back soon!
---
The Thailand Phil takes a trip through Asia and Europe for this short program of easy-to-love music. We begin in Thailand with the world premiere of Chaiwanichsirsi's Chevaliers before moving to Japan for a jazzy performance of Miyake's Elpis Marimba Concerto by our principal timpanist, Wannapha Yannavut. We then jump to Europe for Dvorak's take on the great Shakespearean tragedy, Othello. Finally we land in France to experience Ravel's ever-popular interpretation of the Spanish dance, Bolero. This program will be performed without intermission to ensure proper Covid safety protocols.
Concert: Saturday, 26 February 2022 /4:00 pm / Live on YouTube*
www.youtube.com/c/ThailandPhilharmonic
*For the health and safety of our audience, our "Bolero!" program will be a live-streamed-only event.
Conductor: Alfonso Scarano
Soloist: Wannapha Yannavut, marimba
Program:
Viskamol CHAIWANICHSIRI: Chevaliers (world premiere) (10')
Kazunori MIYAKE: "Elpis" Marimba Concerto (21')
Antonín DVOŘÁK: Othello Overture, Op. 93 (15')
Maurice RAVEL: Bolero (13')