Choir Auditions for The Land of Smiles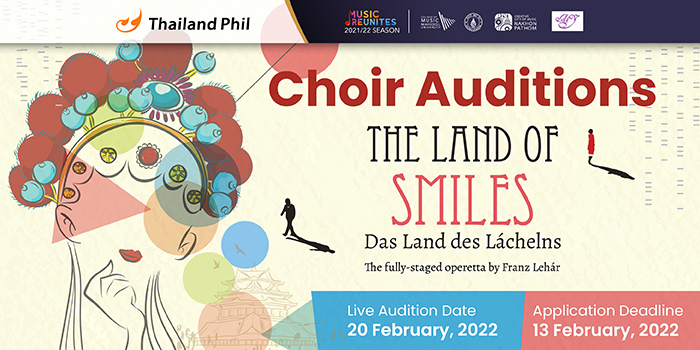 Date of Live Auditions
20 February, 2022
Application Deadline
13 February, 2022
The College of Music, Mahidol University and the Thailand Phil are delighted to announce that they will be staging a full production of one of the most well-known operettas by Franz Lehar, The Land of Smiles. The production will be in Prince Mahidol Hall and will feature an international cast, stage director, and music director. Rehearsals will begin on 27 June, 2022. The performances are scheduled for 12-14 July, 2022.
Auditions for the choir will be held live at the College of Music, Mahidol University on 20 February 2022. The audition schedule will be sent to the email that you provide in the online application form.
An accompanist will be provided for the auditions. A backing track will be provided for applicants to rehearse with. Please prepare only your voice part.
Download the Audition Materials
Download
Online Application Form
Click here
For more information please contact K. Keng
mahannop.landofsmiles@gmail.com