[POSTPONED] Pomelo Town with Thailand Phil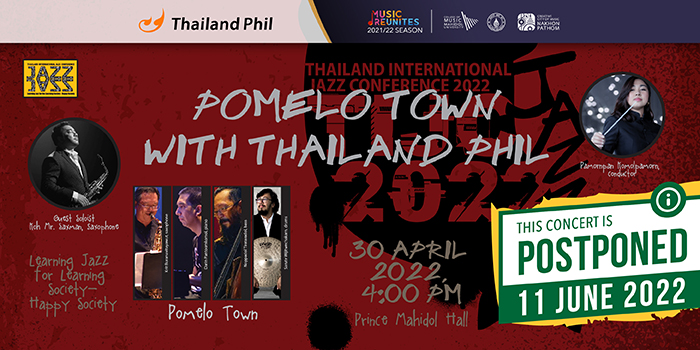 We regret to inform that the "Pomelo Town with Thailand Phil" concert will be postponed due to several of the artists becoming infected with Covid. This concert has been rescheduled for 11 June 2022 at 4:00 pm at Prince Mahidol Hall.
For those who have already purchased tickets may use for the concert on 11th June, 2022 at Prince Mahidol Hall or if you wish a refund, please contact 0-2262-3838 or www.thaiticketmajor.com or email: cs@thaiticketmajor.com within 30th May, 2022.
Apologies for the inconvenience.
———————————
เราเสียใจที่ต้องแจ้งว่าคอนเสิร์ต "Pomelo Town with Thailand Phil" มีความจำเป็นต้องถูกเลื่อนออกไป เนื่องจากมีศิลปินและนักดนตรีติดเชื้อโควิด คอนเสิร์ตจะเลื่อนจัดไปเป็นวันที่ 11 มิถุนายน 2565 เวลา 16.00 น. ณ หอแสดงดนตรีมหิดลสิทธาคาร Prince Mahidol Hall
สำหรับผู้ที่ซื้อบัตรแล้วสามารถเข้าชมคอนเสิร์ตได้ในวันที่ 11 มิถุนายน 2565 หรือหากต้องการขอเงินคืน กรุณาติดต่อ 0-2262-3838 หรือ www.thaiticketmajor.com หรืออีเมล cs@thaiticketmajor.com ภายในวันที่ 30 พฤษภาคม 2565
ขออภัยในความไม่สะดวกมา ณ ที่นี้
---
Let's celebrate International Jazz Day with the Thailand Phil at TIJC 2022! Thailand Phil and Pomelo Town are proud to present a new orchestral arrangement of A Tale from Pomelo Town. This epic jazz suite was originally composed for and recorded by the Mahidol's own faculty jazz septet, Pomelo Town. Don't miss this once-in-a-lifetime opportunity to hear the symphonic version performed with the Thailand Phil, featuring the jazz virtuosi of Pomelo Town!
Concert: Saturday, 30 April 2022 / 4:00 pm / Prince Mahidol Hall
Conductor: Pamornpan Komolpamorn
Pomelo Town:
Krit Buranavitayawut, Alto Saxophone
Darin Pantoomkomol, Piano
Noppadol Tirataradol, Double Bass
Sarute Wijitwechakarn, Drums
Guest Soloist: Sekpol Unsamran (Koh Mr. Saxman), Saxophone
​​Programs:
​​A Tale from Pomelo Town: Darin PANTOOMKOMOL
Once upon a time: Arr. Sarit Tanpensuk
The Stranger: Arr. Sarute Wijitwechakarn
Mission: Arr. Pinchanan Jaiprasong
Light: Arr. Napat Tangsujaritpun
Covid-19 Safety Guidelines:
Prince Mahidol Hall, in cooperation Phutthamonthon District, Nakhorn Pathom, has implemented a robust system of Covid-19 safety guidelines. Please click here read more about measures we are taking to keep your visit to Prince Mahidol Hall safe and healthy.
Ticket: 1,500/1,000/800/600/400 Baht
Booking by telephone
Thai Ticket Major call center: 02-2623456
Prince Mahidol Hall call 02-8496565 Ext 6604,6609
Email: mshall@mahidol.ac.th
Salaya Link shuttle bus available at BTS Bang Wa Station: www.music.mahidol.ac.th/salayalink