The New World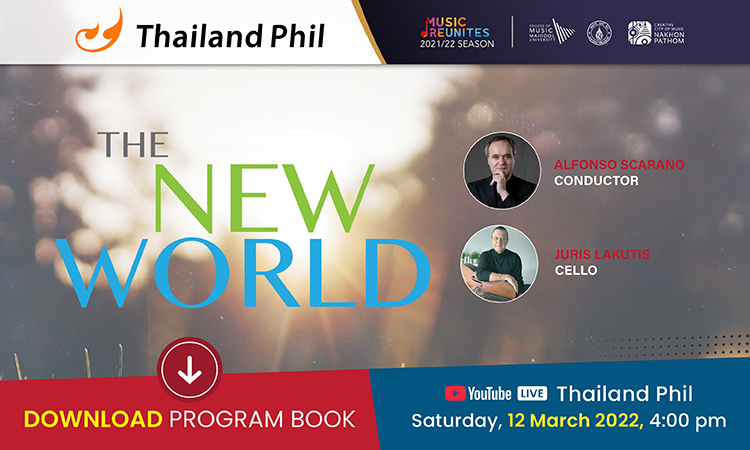 This program is a collection of musical love letters to the countries and cultures in which they were composed. The Moldau is Smetana's romantic description of a trip down the Vltava River of the Czech Republic, from its source in the Bohemian forest to its majestic passage through Prague. Dvorak, also a Czech composer, wrote his New World Symphony while living in America, and modeled many of its themes on traditional Native American and African American music. Bruch's beautiful Kol Nidrei, performed by our long-time cellist Juris Lakutis, takes its inspiration from two traditional Jewish melodies.
Date: Saturday, 12 March 2022 /4:00 pm / Live on YouTube*
www.youtube.com/c/ThailandPhilharmonic
*For the health and safety of our audience, our "The New World" program will be a live-streamed-only event.
Conductor: Alfonso Scarano
Soloist: Juris Lakutis, cello
Program:
Bedřich SMETANA: The Moldau (12')
Max BRUCH: Kol Nidrei (10')
Antonín DVOŘÁK: Symphony No. 9, op. 95 "From the New World" (40')