Pratchaya Khemnark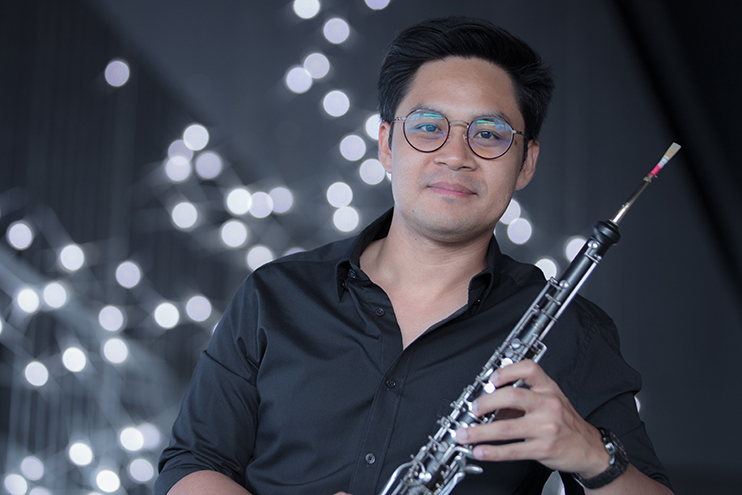 Born in: –
Member Since: –
Pratchaya Khemnark joined the Thailand Philharmonic Orchestra as principal English horn start of the 2015. From 2012 to 2015 he was 2nd oboe of the Thailand Philharmonic Orchestra.
He was born in Bangkok and completed his Master's degree at the College of music, Mahidol University studying with Shigeki Sasaki, Dr. Amy M. Galbraith and Cooper Wright. He had taken lessons and master classes with several world famous oboists such as Martin Schuring, Stefan Schilli, Christoph Hartmann, Yiu Song Lam, Arnaldo de Felice, Dudu Carmel, Victor Tam.
Pratchaya had been participating with the Southeast Asian Youth Orchestra and Wind Ensemble (SAYOWE) 2007, 2010. Southeast Asian Youth Chamber Orchestra (Seayco) 2012, 2013.
He performed with famous orchestras in Thailand such as, Thailand Philharmonic Orchestra, Bangkok Symphony Orchestra, Siam Philharmonic Orchestra, and the Thai Youth Orchestra. With these orchestras, he has had several opportunities to perform internationally. In 2009, he performed with the Mahidol Wind Symphony in Australia and with the Mahidol Pop Orchestra when it performed in Singapore in 2010. In 2011, he performed in the opera "mae naak" with Bangkok Opera and Siam Philharmonic Orchestra in England. In addition, he appeared with the Thailand Philharmonic Orchestra when it performed in Indonesia, Japan, New Zealand and Lao.
In 2012, he earned the principal oboist position of the Siam Sinfonietta. This orchestra had recently won the first prize of "Summa Cum Laude" International Youth Music Festival in Vienna, Austria.
He also teaches in the music department of the College of Dramatic Art (Bangkok, Thailand).