Patrawut Punputhaphong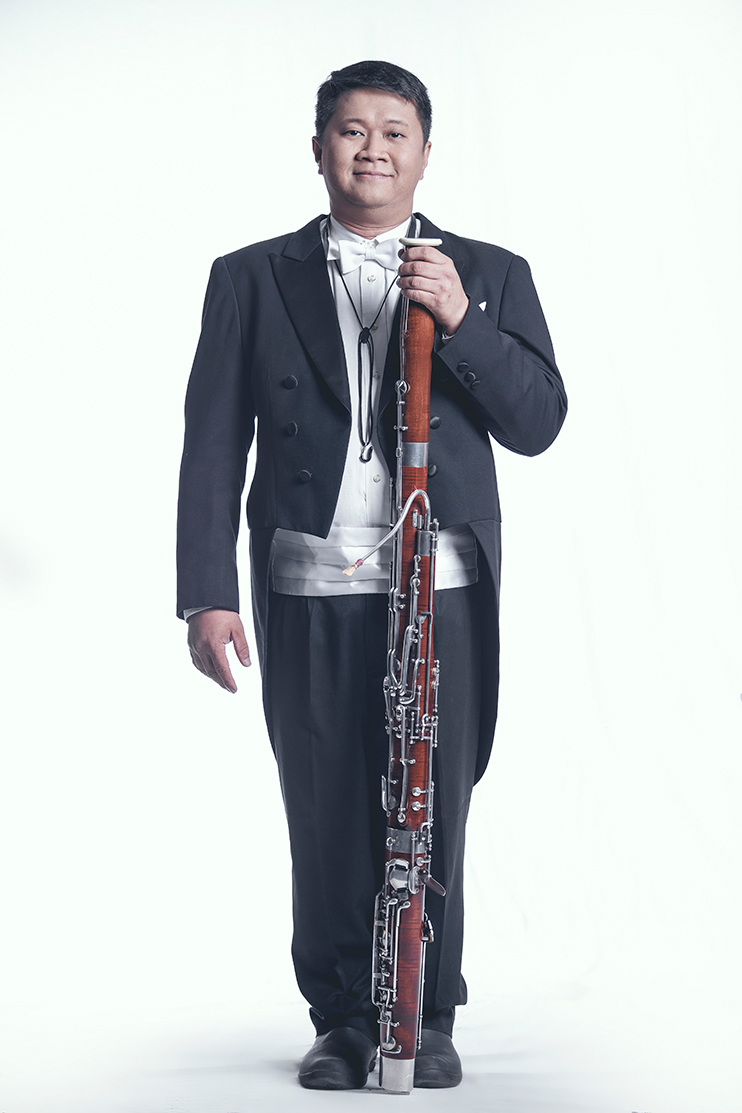 Born in: Bangkok
Member Since: –
Patrawut Punputhaphong is a bassoonist of Thailand Philharmonic Orchestra. He was born in 1971, Bangkok. He graduated from Chulalongkorn University, Faculty of Education and Hong Kong Academy for Performing Arts as Major Bassoon Performance.
He started to play bassoon when he was 14 years old, he played in school's band, and not long after that he has the opportunity to master class with Loren Grickman (American bassoonist from Julliard School of Music) before he continued his study at Chulalongkorn University in 1989. A year later he won a scholarship to study at Hong Kong Academy for Performing Arts, Hong Kong and he finished his bachelor's degree in education at Chulalongkorn University in 1996. Around that time he also studies conducting with Asst.Prof.Col.Choochart Pitaksakorn and RDAM.Veeraphan Vawklang and he was chosen to conduct C.U. Symphony Orchestra while he was a student.
He attended ASEAN youth music workshop at Malaysia in 1988, Indonesia in 1991 and Thailand in 1996. In 1991 he was the principal bassoon of Asian Youth Orchestra and tour concerts in Japan, China, Singapore and Hong Kong. In 1993 he got scholarship to attended Bassoon Camp in North Carolina, USA and Montreal International Music Camp, Quebec, Canada in 1999 also from Canton International Summer Music Academy 2005, China in 2005.
Patrawut is a student of many notable bassoonists, his most influential teachers are Loren Glickman (Julliard School of Music), Mark Popkin (North Carolina School of Arts), Matthew Ruggiero, Richard Svoboda (Boston Symphony Orchestra) and Daniel Matsukawa (Philadelphia Orchestra)
Moreover he has the opportunity to play with many international orchestras such as World Philharmonic Orchestra as the associated principal (1996), Asia Philharmonic Orchestra in Korea (1999), Asia Orchestra Week at Tokyo, Japan with Bangkok Symphony Orchestra in 2002 as well in 2004 he had been invited to be a Guest Principal for National Symphony Orchestra of Malaysia. In 2005 he had been invited to coach bassoon section of Kota Kinabalu Symphony Orchestra (Malaysia) and he also did sectionals for winds and strings sections as an Assistant Conductor. In 2007 he joins in Double reed conference at New York, USA. In the same year, he did many recordings with Maitai Orchestra, Bangkok Symphony Orchestra, Thailand Philharmonic Orchestra and Asia Philharmonic Orchestra. In 2009 him with Thailand Philharmonic Orchestra had been invited to performed a concert at Asia Orchestra Week in Tokyo, Japan and two more concerts for cultural exchange in 2012 (Tokyo, Japan).
In addition, Patrawut used be a member of Thailand Youth Orchestra, C.U. Symphony Orchestra, Maitai Orchestra, Pro Musica Woodwind Quintet, Bangkok Symphony Orchestra Woodwind Quintet and Bangkok Symphony Orchestra. He is a co-founder of Mifa Sinfonietta Orchestra, Rangsit Philharmonic Orchestra. By the time he was a director of Mifa Academy of Music, he organized a Woodwind Festival, and Chamber Music Festival. He is also a guest lecturer for many public music lectures. Since 1996, he is a principal bassoonist of Thailand National Symphony Orchestra. As a bassoon soloist he has been invited to play with Bangkok Symphony Orchestra, National Symphony Orchestra and C.U. Symphony Orchestra.
He serves as a principal bassoon for Thailand Philharmonic Orchestra since 2005. Currently, he teaches bassoon performance major at Division of Music Education, Chulalongkorn University and also an Assistant Conductor of Thailand Youth Orchestra.