[CANCELLED] Thailand International Jazz Conference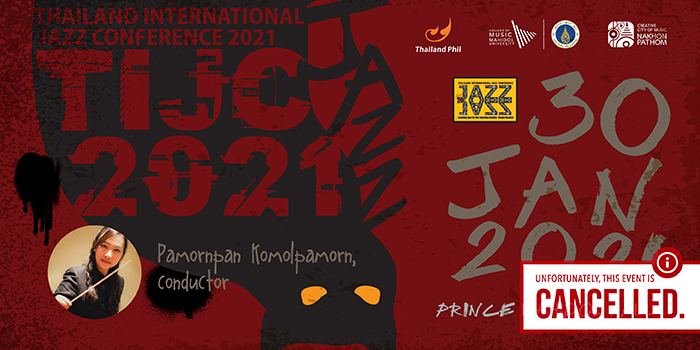 วง Thailand Phil ขอยกเลิกการจัดคอนเสิร์ต TIJC ในวันที่ 30 มกราคม 2564
เพื่อเป็นการปฏิบัติตามมาตรการรักษาความปลอดภัย และเพื่อช่วยยับยั้งการระบาดของโรคติดเชื้อไวรัสโคโรนา (โควิด-19) ในประเทศไทย
เราจะประกาศให้ทุกท่านทราบโดยเร็วที่สุด เมื่อเราสามารถกลับมาทำการแสดงได้อีกครั้ง
วง Thailand Phil หวังว่าจะได้พบกับผู้ชมของเราอีกครั้งเร็ว ๆ นี้ ที่หอแสดงดนตรีมหิดลสิทธาคาร Prince Mahidol Hall
——
In an effort to help contain the recent outbreak of Covid-19 in Thailand we are canceling the "TIJC" concerts on 30 January 2021.
We will announce as soon as possible when we are able to resume performances. We look forward to seeing our audience again soon in Prince Mahidol Hall.
Well known for bringing world-class jazz to Salaya, the Thailand International Jazz Conference has become one of the hottest tickets of the year. Hear the Thailand Phil perform along side some of the top jazz artists. Our new Resident Conductor, Maestra Pamornpan Komolpamorn, conducts.
เทศกาลแจ๊สระดับโลก ณ ศาลายา กลับมาอีกครั้งหนึ่ง มาฟังวง Thailand Phil บรรเลงเคียงคู่กับศิลปินแจ๊สจากนานาชาติ ภายใต้การกำกับวงของวาทยกรหญิงของเรา ภมรพรรณ โกมลภมร
Concerts:
Conductor: Pamornpan Komolpamorn
Soloist: To be announced
Program: To be announced
Ticket Prices: 1500, 1000, 800, 600, 400 Baht
50% discount for children and students below the age of 25 (or currently studying in an undergraduate program)
For tickets and reservations please call:
Thaiticket Major – www.thaiticketmajor.com / Call Center 02-262-3456
Tel 0 2849 6565 ext. 6604 or 6609 (Monday-Friday at 9.00 a.m. – 5 p.m.)
Email: mshall@mahidol.ac.th
Social Distancing Venue Seating Policy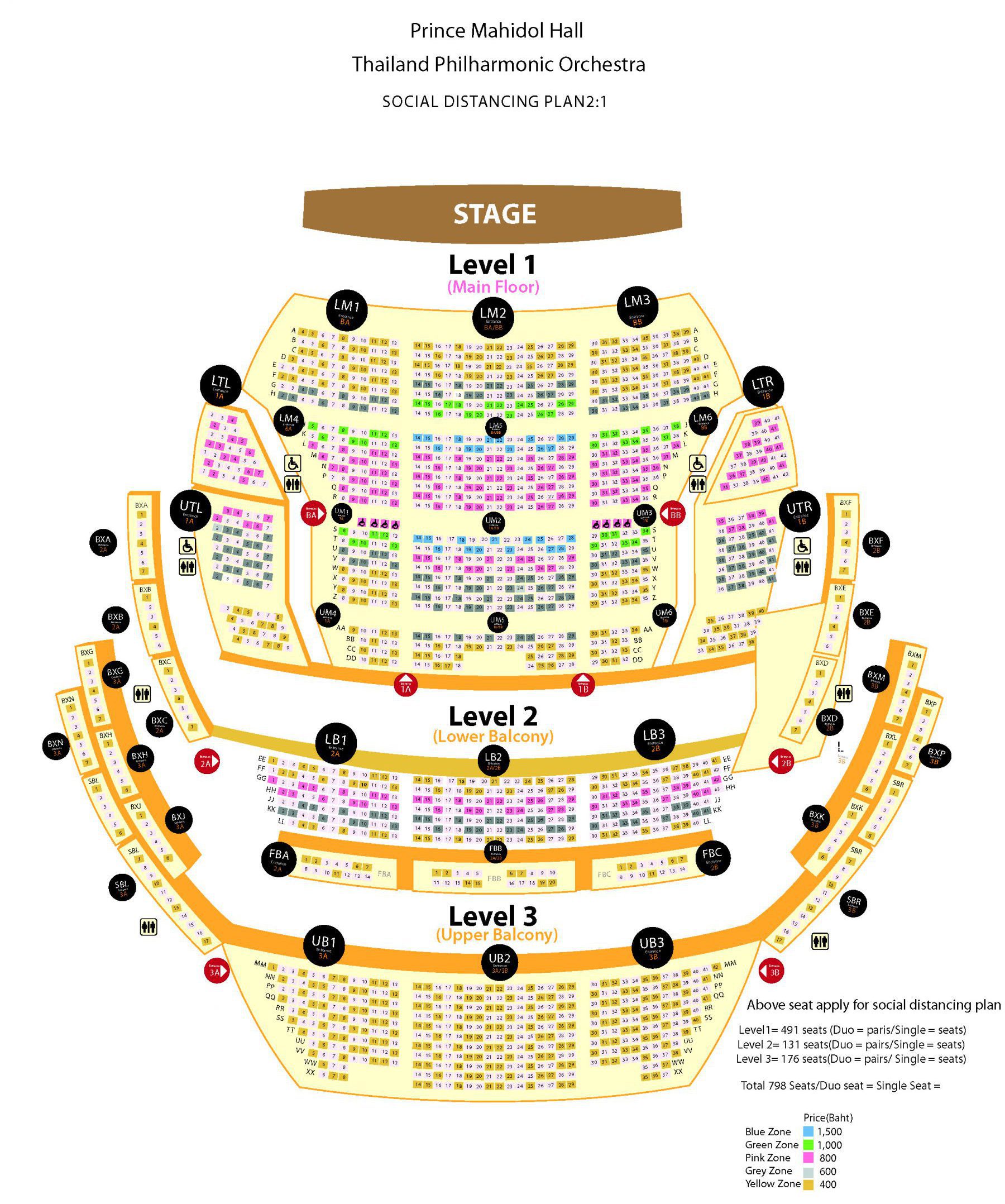 Our venues have standard seating arrangements following MoPH and Provincial guidelines of 4 sm per person.

MACM maximum per concert is 111 seats
PMH
Level 1 is 491 seats
Level 2 is 131 seats
Level 3 is 176 seats
The standard configuration is in single or "duo" seats in PMH
The standard configuration is single in MACM.
Bookings of 2, 3-4 in MACM, more than 2 in PMH, must be made by telephone or email at least 48 hours before the date of the concert.
Students who are entitled to complimentary seating will only be allowed to use single seats.

Due to the limited number of people allowed in the lobby areas at any one time, MS students are requested to book their complimentary seat no later than 15 minutes before the concert.
If later than 15 minutes we cannot guarantee a seat.
Student may need to wait outside the lobby to queue for their seats.

Pricing follows the same announcements for each concert

200 Baht adult and 100 Baht Student (Non MS student with student ID card) in MACM
PMH is announced for each event or a TPO series.

The online audience can attend to the live concert via (Facebook, YouTube Live, etc.)
Salaya Link shuttle bus available at BTS Bang Wa Station: www.music.mahidol.ac.th/salayalink