The Adventures of Sandalwood Boy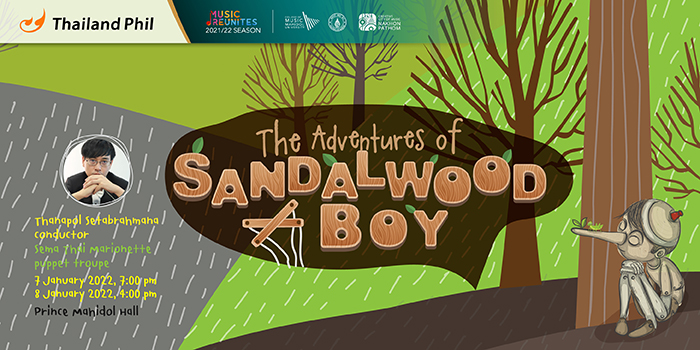 In celebration of Thailand's national Children's Day our Assistant Music Director, Maestro Thanapol Setabrahmana, leads the orchestra in a concert for our youngest fans. This year's concert features stories of the Sandalwood Boy, a boy made from the provincial tree of Nakhon Pathom, the Sandalwood tree. Based on the classic children's tale, Pinocchio, and uniquely adapted to a new Thai setting, these stories will resonate with audiences young and old. Experience this never-before-seen adventure featuring local folk songs of Thailand and Nakhon Pathom!
The Adventures of Sandalwood Boy – คอนเสิร์ตสำหรับครอบครัวกลับมาอีกครั้ง ขอเชิญชวนทั้งครอบครัวมาชมการแสดง "ละครหุ่นไม้จันทร์หอม" ซึ่งเป็นไม้ประจำจังหวัดนครปฐม ดัดแปลงมาจากตัวละครพินอคคิโอ ที่คราวนี้จะมาผจญภัยในดินแดนนครปฐม ผสมผสานเสียงเพลงพื้นบ้านพื้นถิ่นไทยเข้ากับวงออร์เคสตรา พร้อมด้วยศิลปินนครปฐมที่จะมาร่วมกันทำให้การแสดงครั้งนี้พิเศษกว่าครั้งไหนๆ
Concerts:
Friday, 7 January 2022 / 7:00 pm
Saturday, 8 January 2022 /4:00 pm
Conductor: Thanapol Setabrahmana
Soloist: Sema Thai Marionette, puppet troupe

Program:
Thanapol SETABRAHMANA: The Adventures of Sandalwood Boy
Updated Covid-19 Safety Guidelines at Prince Mahidol Hall:
To ensure a healthy and safe concert experience all audience members will be required to show a vaccine certificate and a negative ATK result before entering Prince Mahidol Hall. Please click the link for full information and guidelines.
อัพเดทแนวทางและมาตรการความปลอดภัย Covid-19 ณ หอแสดงดนตรีมหิดลสิทธาคาร
เพื่อให้แน่ใจว่าคุณจะได้รับประสบการณ์การรับชมคอนเสิร์ตที่ปลอดภัย ผู้ชมทุกคนจะต้องแสดงใบรับรองการฉีดวัคซีน และผลการตรวจ ATK ที่แสดงผล ไม่พบเชื้อ ก่อนเข้าสู่หอแสดง โปรดคลิกลิงก์เพื่อดูข้อมูลและมาตรการทั้งหมดได้ที่
Ticketing:
We are pleased to announce advanced booking. Due to Covid-19 regulations only a limited number of tickets will be available.
Booking by telephone
Thai Ticket Major call center: 02-2623456
Prince Mahidol Hall call 02-8496565 Ext 6604,6609
Email: mshall@mahidol.ac.th
Salaya Link shuttle bus available at BTS Bang Wa Station: www.music.mahidol.ac.th/salayalink