Education
Youth Development through Classical Music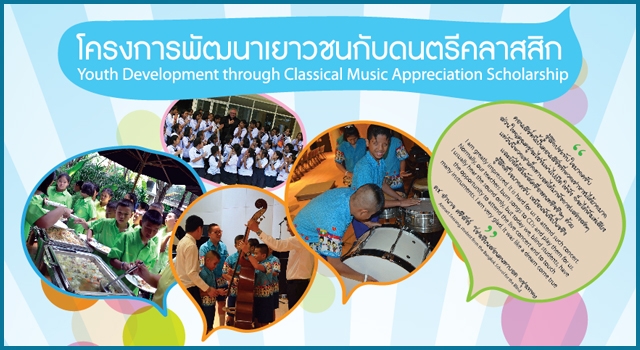 Youth Development through Classical Music is accepting for Scholarship applications.
Mahidol University's College of Music is offering scholarships to schools that wish to participate in "Youth Development through Classical Music Appreciation" Program.
This program is aimed at promoting classical music education and appreciation amongst the young generation. Students of applying schools will enjoy a musical outing to the College of Music's beautiful green campus, attend the Thailand Philharmonic Orchestra concert at the Prince Mahidol Hall (PMH). Leading the group will be the college's instructor and staff. Their role will be there to educate the students with regards to the concert program, as well as concert etiquette. Participants are welcome to enjoy a delicious meal by Music Square restaurant on a Friday evening or a Saturday afternoon. Thailand Philharmonic Orchestra (TPO) performs on Friday at 7 p.m. and Saturday at 4 p.m. on the first three weekends of every month, except April and October.
Scholarships include transportation, Thailand Philharmonic Orchestra concert tickets and meals for 100 participants / school (valued up to 30,000 Baht).
Interested schools are requested to answer the following question:
"Why does our school deserve to win the Youth Development through Classical Music Appreciation scholarship?"
Required information:
Your answer to the question
An approval letter from your school principal
Your contact details
Please send the above information to: musicmupr@gmail.com
For more information, please call 0 2800 2525-34 Ext. 3104, 3108
---
Education Outreach Project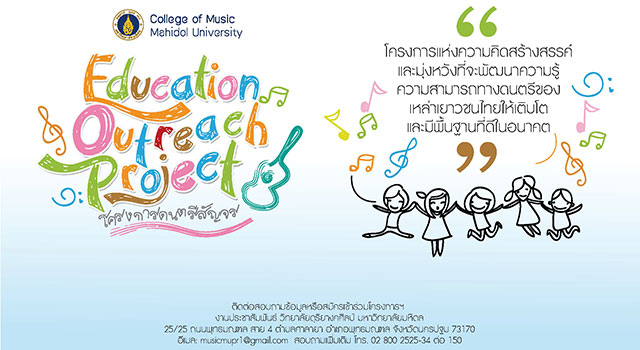 Education Outreach Project of the College of Music, Mahidol University aims to inspire music learning and appreciation by presenting music performances and mini-workshops by different ensembles made up of our College faculty members and outstanding students. Your students will have opportunities to be up and close to the faculty members and College of Music students, ask questions and even play the instruments.
For more information, please contact
Ms. Tanatchayakorn Pongpakornrith
Tel. 0-2800-2525 Ext. 3108
Mobile Phone: 08-9811-9089
E-mail: musicmupr1@gmail.com