Announcement: Cancellation of Thailand Philharmonic Orchestra Concerts in March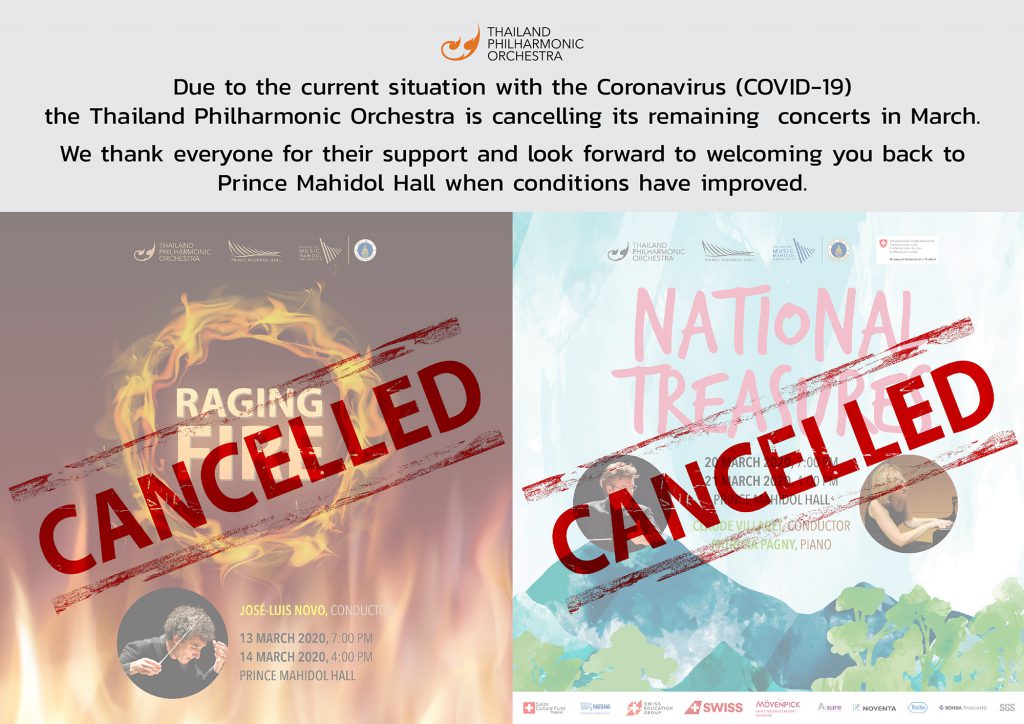 Due to the current situation with the Coronavirus (COVID-19) the Thailand Philharmonic Orchestra will cancel its remaining concerts in March. RAGING FIRE and NATIONAL TREASURES which were to have taken place on 13-14 and 20-21 March 2020 will be CANCELLED.
This difficult decision was made in the interests of prioritizing and protecting the health of our audience, musicians, and venue staff. The Thailand Philharmonic Orchestra and the College of Music, Mahidol University value the support our audience and the efforts of our musicians and staff. We apologize for the inconvenience. Until such time as the situation with COVID-19 stablizes, we wil accept advance bookings. Announcements regarding upcoming concerts in May will be made after assessing this ongoing situation. Thank you for your understanding and support!
* For those who have made advance bookings for these programs, upgraded seating zones on future concerts can be substituted, more information please the PMH Box Office at 02-849- 6565/6 Ext. 6603,6604,6609 (Monday – Friday at 9.00 a.m. – 5.00 p.m.) *