Giacomo Visintin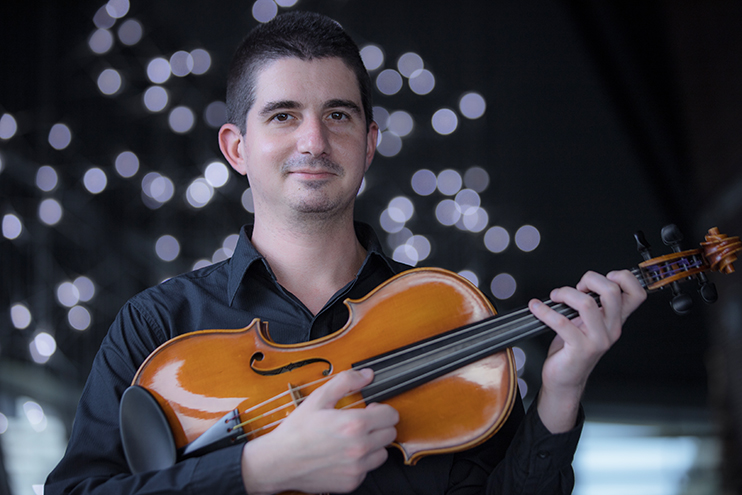 Born in: Milan, Italy
Member Since: 2015
Born in a non-musician but cultured family, he attended his violin and piano music courses at Conservatory of Music of Milan from 1995 to 2003, when he switched to viola being graduated in 2007 at the same school. Later he attended the courses of Giulio Franzetti (concertmaster of Orchestra del Teatro alla Scala di Milano), Raffaele Mallozzi (Principal Viola at Orchestra dell'Accademia Nazionale di Santa Cecilia), Claudio Pavolini and Iakov Zats (Principal Viola at Orchestra dell'Arena di Verona). In 2002 he was chosen by Maestro Gerardo Bizzarro to take part in an international tourneé in South America with the Youth Orchestra of Milan Conservatory. Successively he started a wide activity as orchestra player in Italy collaborating with many companies (I Pomeriggi Musicali di Milano, Orchestra Filarmonica Italiana, Orchestra Internazionale d'Italia, Orchestra del Teatro Donizetti di Bergamo, Orchestra dell'Università degli Studi di Milano, Orchestra Milano Classica) and Germany (Deutsches Kammerorchester Frankfurt) having occasion to perform with renowed musician as Salvatore Accardo, Enrico Dindo, Lilya Zilberstein, Riccardo Muti, Albrecht Mayer, Alexander Lonquich, Stefan Dohr, Lior Shambadal.
From 2007 to 2012 he was the viola of Gamma String Quintet, who performed the main string orchestra repertoire and had been invited in two international tourneé in U.S.A. (2008) and Portugal (2009).
He also hold the Violin & Viola chair in the International Music School of Milan from 2010 to 2013.
He moved to China in 2013 winning the audition for section viola in Guiyang Symphony Orchestra and successively being made Principal Viola in Xi'An Symphony Orchestra from 2014 to 2015, when he joined the Thailand Philharmonic Orchestra.