SIDE BY SIDE WITH THE THAILAND PHIL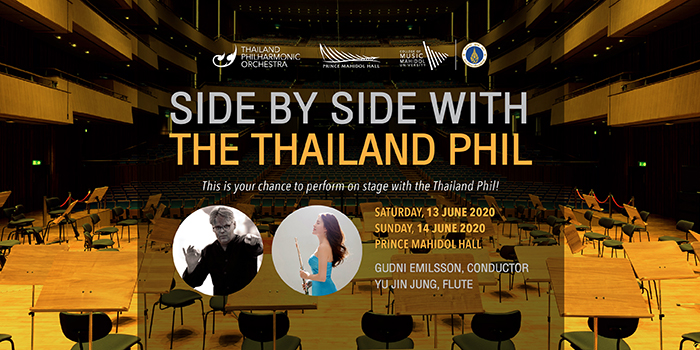 For the first time ever the Thailand Philharmonic is reaching out to invite members of its community to play side-by-side with the orchestra. Our own Founding Chief Conductor, Maestro Gudni Emilsson, will lead the orchestra in a concert of fun and familiar music. There will be limited seats available in every section of the orchestra. Simply post a video to YouTube of yourself performing the required audition material. As many participants as possible will be chosen to be a part of this once-in-a-lifetime experience. All ages are welcome to apply. Instructions will be posted on the Thailand Phil website and Facebook page.
โอกาสในการร่วมแสดงคอนเสิร์ตกับนักดนตรี Thailand Phil! ครั้งแรกกับการเปิดรับสมัครผู้สนใจมาแสดงคอนเสิร์ตครั้งพิเศษกับเรา เพียงส่งวิดีโอบันทึกการเล่นเครื่องดนตรีของท่าน ผู้ที่ผ่านการคัดเลือกจะได้เล่นกับวงที่มหิดลสิทธาคาร กำกับวงโดยวาทยกรรุ่นบุกเบิกวง กุดนี อีมิลสัน กฎกติกาสามารถติดตามได้ทางเวบไซต์ของวง
Concerts:
13 June 2020 / 4.00 p.m. / PMH
14 June 2020 / 4.00 p.m. / PMH
Conductor: Gudni Emilsso
Soloist: Yu Jin Jung, flute
Programs:
Music of H.M. King BHUMIBOL ADULYADEJ
Jean SIBELIUS Finlandia, Op. 26
François BORNE Fantaisie Brillante on themes of "Carmen"
Klaus BADELT Pirates of the Caribbean
Gustav HOLST Selections from The Planets, Op. 32
Pyotr Ilyich TCHAIKOVSKY Marche Slave
And more!
Ticket Reservation
Thaiticket Major – www.thaiticketmajor.com / Call Center 02-262-3456
PMH Box Office on TPO Concert Day (Friday since 5.00 p.m. – 9.00 p.m. / Saturday since 2.00 p.m.- 6.00 p.m.)
E-mail: mshall@mahidol.ac.th
Salaya Link shuttle bus available at BTS Bang Wa Station: www.music.mahidol.ac.th/salayalink