Dracula, Porgy, and BASS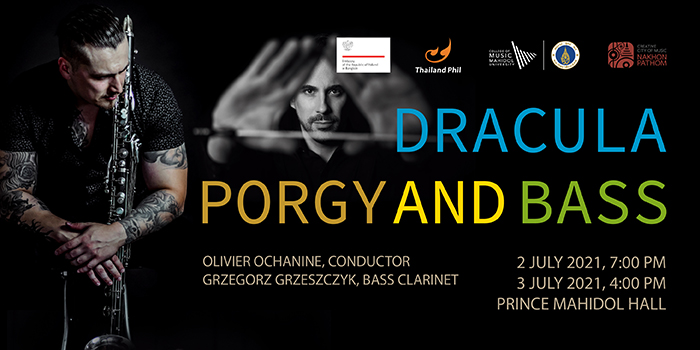 The Thailand Phil is proud to partner with the Embassy of Poland in presenting its own Grzegorz Grzeszczyk in a performance of a groundbreaking new work for bass clarinet and orchestra, composed especially for him by fellow Polish citizen Nikola Kołodziejczyk. The second half of the program features music inspired by the spirited and jazzy folk music of Mexico and America.
This concert is proudly supported by the Embassy of Poland.
เรื่องเล่าหลากหลายจากหลายดินแดน จากโรมาเรีย ถึง เม็กซิโก และอเมริกา ด้วยลำนำแห่ง แดรกคิวล่า ถึง พอร์กี้ และที่เราภูมิใจนำเสนอคือ บทเพลงเดี่ยวเบสคลาริเน็ตของนักแต่งเพลงชาวโปแลนด์ บรรเลงโดยนักเบสคลาริเน็ตชาวโปแลนด์ เราขอมอบเวทีให้กับ เกรกกอร์ซ เกรซชิค นักเบสคลาริเน็ตประจำวงของเรา
Concerts:
Conductor: Olivier Ochanine
Soloist: Grzegorz Grzeszczyk, bass clarinet
Program: