Boston Brass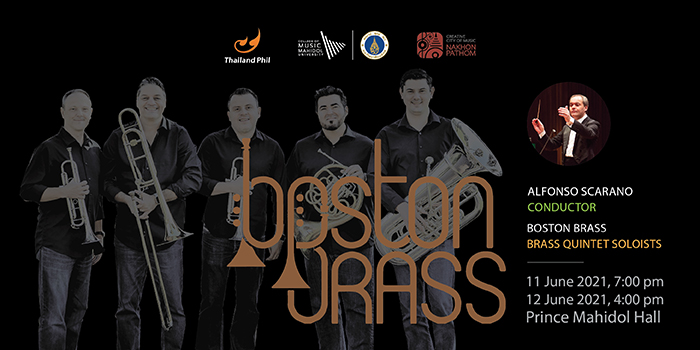 The world-renowned Boston Brass quintet joins the Thailand Phil to perform music by Gershwin, Piazzolla, and Hollywood film composers. The fun continues on the second half with the jazzy dance music of Berstein's West Side Story.
บอสตันบราส คือหนึ่งในวงเครื่องทองเหลืองห้าชิ้น อันดับต้นๆ ของโลก หลังจากที่เคยมาเยือนเราไปแล้ว ปีนี้กลับมาแสดงคู่กับวง Thailand Phil ด้วยรายการอันสนุกสนานในครึ่งแรก ส่วนในครึ่งหลัง เราเอาใจคนชอบเสียงเครื่องทองเหลืองด้วยรายการที่จะเร้าใจคุณแน่นอน
This program is proudly supported by Yamaha Band and Orchestra, Team Thailand.
Concerts:
Conductor: Alfonso Scarano
Soloist: Boston Brass, brass quintet soloists
Program:
Ticket Prices: 1500, 1000, 800, 600, 400 Baht
50% discount for children and students below the age of 25 (or currently studying in an undergraduate program)
For tickets and reservations please call:
Thaiticket Major – www.thaiticketmajor.com / Call Center 02-262-3456
Tel 0 2849 6565 ext. 6604 or 6609 (Monday-Friday at 9.00 a.m. – 5 p.m.)
Email: mshall@mahidol.ac.th
Social Distancing Venue Seating Policy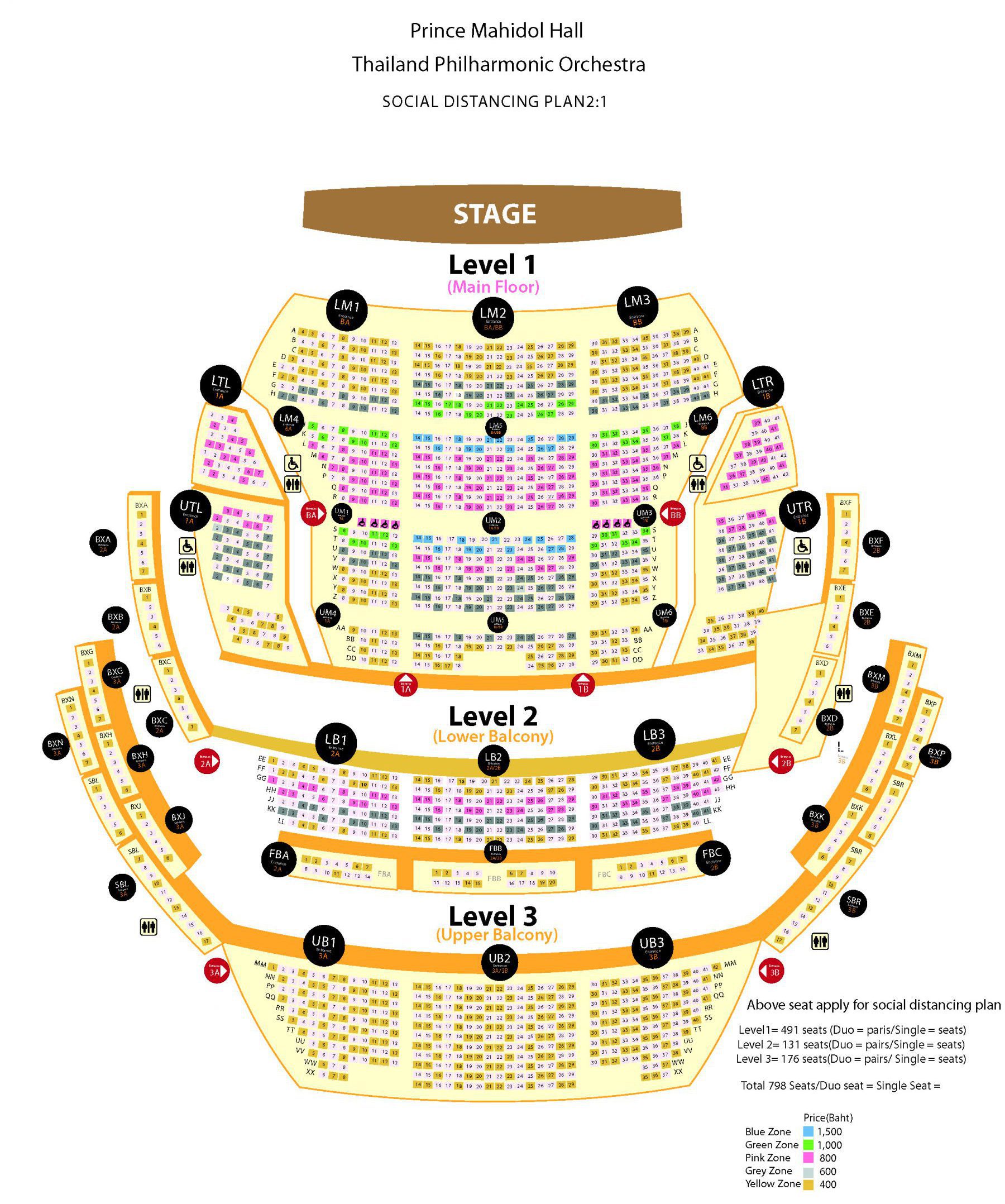 Our venues have standard seating arrangements following MoPH and Provincial guidelines of 4 sm per person.

MACM maximum per concert is 111 seats
PMH
Level 1 is 491 seats
Level 2 is 131 seats
Level 3 is 176 seats
The standard configuration is in single or "duo" seats in PMH
The standard configuration is single in MACM.
Bookings of 2, 3-4 in MACM, more than 2 in PMH, must be made by telephone or email at least 48 hours before the date of the concert.
Students who are entitled to complimentary seating will only be allowed to use single seats.

Due to the limited number of people allowed in the lobby areas at any one time, MS students are requested to book their complimentary seat no later than 15 minutes before the concert.
If later than 15 minutes we cannot guarantee a seat.
Student may need to wait outside the lobby to queue for their seats.

Pricing follows the same announcements for each concert

200 Baht adult and 100 Baht Student (Non MS student with student ID card) in MACM
PMH is announced for each event or a TPO series.

The online audience can attend to the live concert via (Facebook, YouTube Live, etc.)
Salaya Link shuttle bus available at BTS Bang Wa Station: www.music.mahidol.ac.th/salayalink