Composer in Residence
Narong Prangcharoen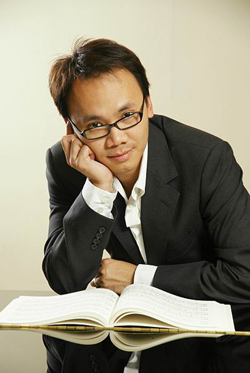 Thai Composer Narong Prangcharoen's success as a composer was recently confirmed by his receiving the prestigious 2013 Guggenheim Fellowship and the Barlow Prize. Other awards include the Music Alive, the 20th Annual American Composers Orchestra Underwood New Music Commission, the American Composers Orchestra Audience Choice Award, the Toru Takemitsu Composition Award, the Alexander Zemlinsky International Composition Competition Prize, the 18th ACL Yoshiro IRINO Memorial Composition Award, Pacific Symphony's American Composers Competition Prize and the Annapolis Charter 300 International Composers Competition Prize. In his native country, Prangcharoen was recipient of the Silapathorn Award, naming him a "Thailand Contemporary National Artist."
Prangcharoen has, thus, established an international reputation and is recognized as one of Asia's leading composers. He has received encouragement and praise from a number of important contemporary composers, such as Paul Chihara, Zhou Long, Augusta Read Thomas and Yehudi Wyner. John Corigliano has called Prangcharoen's music "contemporary and accessible," and Chen Yi has written that it is "colorful and powerful."
The press has also recognized Prangcharoen's uniqueness as a composer. The Chicago Sun Times called his music "absolutely captivating," and, of the October 2012 Carnegie Hall debut by the American Composers Orchestra of "Migrations of Lost Souls," The New York Times critic, Corinna da Fonseca-Wollheim wrote, it is "an atmospheric work that weaves some of the spiritual and vernacular sounds of Mr. Prangcharoen's native Thailand into a skillfully orchestrated tapestry [with] moments of ethereal beauty."
Prangcharoen's music has been performed in Asia, America, Australia and Europe by many renowned ensembles such as the American Composers Orchestra, the Annapolis Symphony Orchestra, the Baltimore Symphony Orchestra, the Bohuslav Martinů Philharmonic, the China Philharmonic Orchestra, the China NCPA Orchestra, the German National Theater Orchestra, the Grant Park Orchestra, the Melbourne Symphony Orchestra, the Minnesota Orchestra, the Nagoya Philharmonic Orchestra, the Oregon Symphony Orchestra, Pacific Symphony, the Shanghai Philharmonic Orchestra, the Thailand Philharmonic Orchestra, the Tokyo Philharmonic Orchestra and the Toledo Symphony Orchestra, under many well-known conductors, such Carl St.Clair, Steven D. Davis, Carlos Kalmer, Jose-Luis Novo, Mikhail Pletnev and Osmo Vänskä. His music has also been presented at many important music festivals and venues, such as the Grant Park Music Festival, the Asia: the 21st Century Orchestra Project, the MoMA Music Festival, the Maverick Concerts: "Music in the Wood," the Beijing Modern Music Festival, the Lincoln Center, the Library of Congress, the Le Poisson Rouge, and Carnegie Hall by distinguished performers such as, among others, the New York New Music Ensemble, the Imani Winds, saxophonist John Sampen and pianist Bennett Lerner
Prangcharoen received his D.M.A. from the University of Missouri-Kansas City, where his primary teacher was Chen Yi. In addition to working as a freelance composer, he is currently teaching at the Community Music and Dance Academy of the Conservatory of Music, University of Missouri in Kansas City. He is the founder of the Thailand International Composition Festival, now entering its 10th year. His works are published exclusively by Theodore Presser Company.
---
Col. Prateep Suphanrojn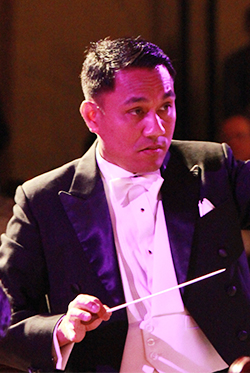 It is an extraordinary honor to arrange and compose for Thailand Philharmonic Orchestra with high standard musicians. Since 2005, I wrote and recorded more than 400 pieces of Thai melodies as opening pieces for each concert. This is the great opportunity to introduce the Thai traditional tunes to the international.
For the 12th season, I will still introduce traditional tunes but with new techniques and new sounds for the audiences. As a conductor, I really appreciate to work with the most talented musicians and professional orchestra management teams in Thailand.
TPO performed many great symphonic works and recoding CDs of high quality while they worked with enthusiasm and great discipline as a professional Orchestra.
I would like to thank all the musicians and audiences for their warm welcome and support to our concerts. Hopefully all the fans will enjoy the providing programs in this new season.